2020-2024 CRE Strategic Plan
The Counselors of Real Estate has commenced development of its sixth five-year strategic plan with the guidance of an experienced outside facilitator.  With strategic planning fundamental to the organization's relevance to its membership and the real estate industry in general, the focus is on targeted objectives that are meaningful, attainable, and measurable. The Counselors' current invitation process and the CRE value proposition are two particular areas of interest. If you haven't done so, please complete the comprehensive member survey which you recently received. Your opinions are needed and valued.
Global Positioning and Growth
The Counselors of Real Estate's member retention in 2020 is expected to equal or exceed last year's strong renewal rate of 94%, with CREs now residing in 20 countries and U. S. territories. To accommodate our growing global membership, the CRE European Chapter has added Prague-based staff to strengthen programming and exposure of the CRE brand throughout the continent, while the formation of the CRE Asian Chapter based in Tokyo is underway.
Planning has begun for the International Conference June 10-12 in Prague at the Czech National Bank Congress Center. Counselor representation at MIPIM continues March 10-13 in Cannes, France, highlighted by a special CRE-hosted luncheon on March 10, interviews with the international press, and networking opportunities with global market leaders.
Meet Your 27 New CRE Colleagues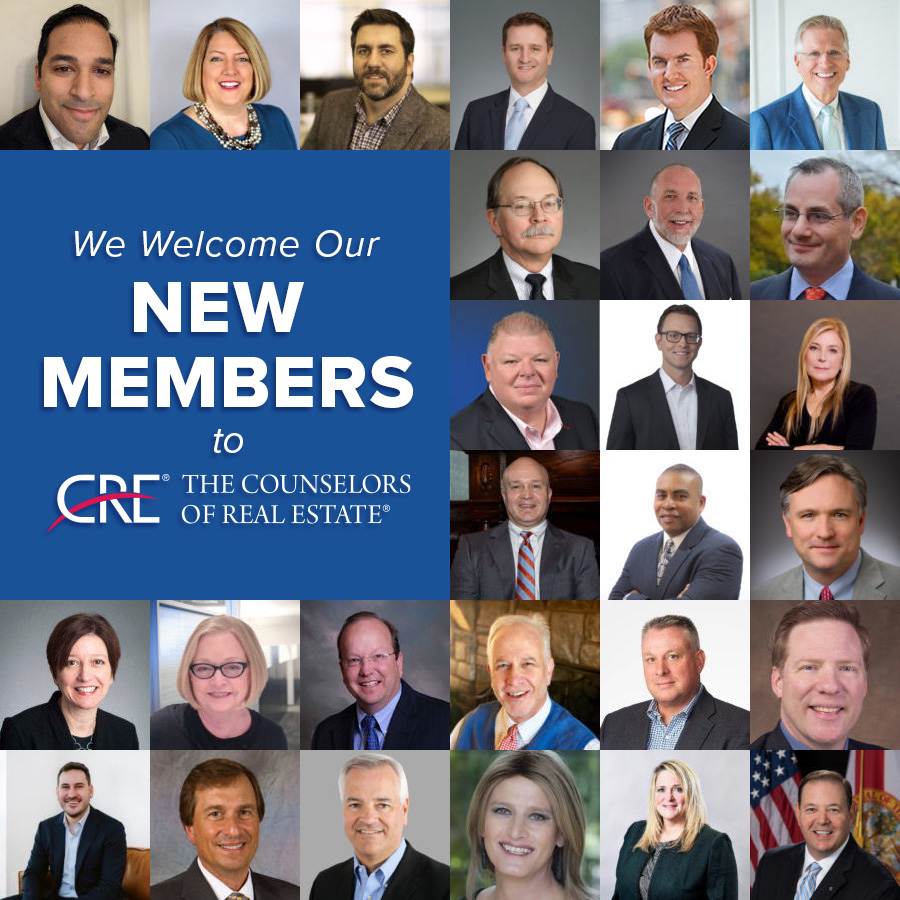 Click here to learn more about the newest CREs.
Embrace IT or Risk Obsolescence – 2020 Midyear Meetings
Registration opens March 6 for the CRE 2020 Midyear Meetings May 3-5 at the Fairmont Copley Plaza in Boston. Click here for preliminary program details.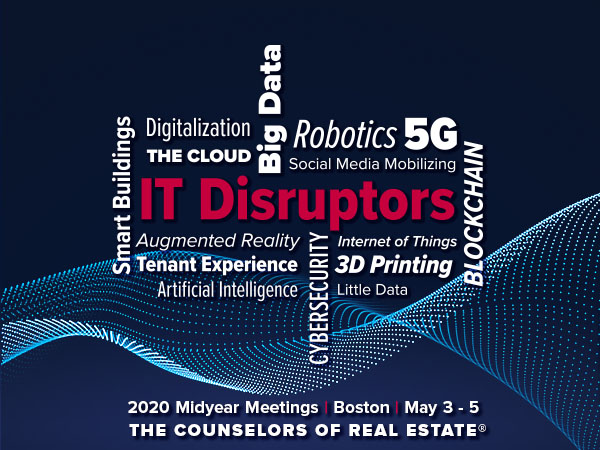 Public Service Interest Groups Enhance Counselors' Giving Back
Giving back is a core value of Counselors. This culture has long been established through existing initiatives including the CRE Foundation, CRE Consulting Corps, and the leadership and participation by individual Counselors in nonprofit organizations addressing a range of real estate related challenges. Spearheaded by Scott Muldavin, CRE, the Giving Back Task Force aims to enhance Counselors' giving back efforts and expand opportunities to collaborate around these public service activities through the formation of interest groups. The public service interest groups will bring together like-minded Counselors around the issues of Affordable Housing, Sustainability and Climate, Nonprofit Real Estate Strategies, Infrastructure, and Disaster Response. For more information or to join an interest group, click here.
Are You Aware of The Counselors' Planned Giving Program?
The CRE Planned Giving Program enables members and other interested parties to formally include The Counselors of Real Estate in their estate planning. Any gifts are gratefully acknowledged and may be designated by the benefactor to support a specific organizational initiative or earmarked for general use as authorized by the trustees of the CRE Foundation. Gifts to this program are often tax deductible and can be structured through various options. One of our goals is to provide you with flexible options for your gift giving. With that in mind, under certain circumstances gifts are revocable. Click here to review the Planned Giving brochure. Please contact Paul Coady at pcoady@cre.org for additional information. All inquiries will be held in the strictest confidence.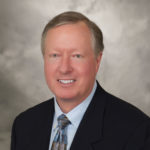 "I was always taught to give back when I receive. And I have received so much as a result of being a CRE. For me and for Monica as well, it is a no-brainer to give back to this wonderful group."
James S. Lee, CRE
Chicago, IL
Connect with CRE on Social Media
Followers of The Counselors' LinkedIn page tripled in 2019—surpassing 2,000—due to an aggressive strategy of encouraging member-to-member dialogue and engagement, repurposing and sharing original and curated content, and tagging and following relevant social media users. Don't just join the conversation. Start it. Connect now!
LinkedIn | Twitter | Facebook | Instagram
The Latest in Real Estate Issues
In Volume 44 of Real Estate Issues, Hugh F. Kelly, Ph.D., CRE, Desmond F. McGowan, and Steven R. Norris, CRE, present a case for ethics as an element of real estate education and a foundational component in sound real estate practice. Read the two-part article here.
The Latest in The Counselor
In the Winter 2020 issue of The Counselor, Andrew Garte offers unique insight on the effect of climate risk and the environment on real property assets, while Bruce Knight discusses infrastructure investment as an economic development strategy. Read it here.
---
Winter 2020 Newsline: Read More