2020 Chair Michel Couillard, CRE, was quoted in Bisnow.com on the impact of infrastructure repair and modernization on real estate and economic growth. Read it here.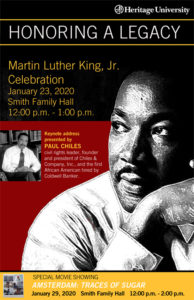 Paul Chiles, CRE, addressed Seattle University students, faculty, alumni, and staff on Dr. Martin Luther King's timeless impact on society and students of color in particular. Mr. Chiles also spoke at Heritage University on the challenges of economic empowerment and financial inclusion. Heritage University is located on the Yakima Indian Reservation in Toppenish, Washington.
Anthony Graziano, CRE, delivered the keynote address at the Connect South Florida conference in Key Biscayne. Mr. Graziano also appeared on America's Commercial Real Estate Show to discuss Integra Realty Resources' Viewpoint 2020 Report. Watch here.
Julia Hoagland, CRE, delivered an address in Hong Kong on the qualitative and quantitative market forces presenting opportunities for leverage for international investors in the Manhattan residential real estate market.
In the New Hampshire Business Review, Bill Norton, CRE, writes about the industry challenges that lie ahead in 2020. Read it here.
David Waite, Esq., CRE, will speak at ULI Los Angeles' "Confronting the Land Use Challenges to Housing the Homeless" program on March 4 in Los Angeles.
KC Conway, CRE, was one of 16 national economists to present at NAR's Inaugural Forecast Conference in December in Washington DC. Mr. Conway also published a new paper titled "Retail e-Volution" in collaboration with the CCIM Institute and University of Alabama's Center for Real Estate. Read it here.
David Kirk, CRE, published an article on portfolio adjustments in the New England Real Estate Journal.  Read it here.
Hugh Kelly, Ph.D., CRE, discussed riding the cycle on America's Commercial Real Estate Show. Watch here.
Jim Costello, CRE, was quoted in the Chicago Tribune on the issue of declining commercial property sales in Chicago. Read it here.
Anthony DellaPelle, Esq., CRE, authored "Five Tips for Commercial Property Taxpayers in New Jersey" in the Mid Atlantic Real Estate Journal. Read it here.
Michel Couillard, CRE, Leslee Lewis, JD, CRE, and Casey Pipes, Esq., CRE, will discuss the Top Ten Issues Affecting Real Estate at the midyear meeting of the American College of Real Estate Lawyers March 19-22.
---
Winter 2020 Newsline: Read More