Recent Chapter Events
March 20: The Dallas/Fort Worth Chapter held a luncheon featuring speaker, Mike Ablon, founding partner of Pegasus Ablon. Pegasus Ablon is a multidisciplinary developer and investor focused on the integration of emerging markets with evolving demographic trends.
March 20: The Utah Chapter held a luncheon featuring a presentation by Russ Appel, Founding Principal of the Praedium Group. Appel spoke on state fiscal pressures and the subsequent impact on real estate.
March 27: The New York Metro Chapter held a thought leaders luncheon, discussing the most significant issues affecting real estate for 2019/2020.
April 4: The New England Chapter hosted a tour of the "Bulfinch Triangle" project underway in Boston's central business district. The tour was followed by a panel discussion featuring Robert Cleary, CRE; Kerrianne Lappin, CRE; Richard Brace, CRE; and Sarah Abrams of Iron Mountain.
April 10: The New Jersey Chapter held a breakfast meeting discussing Bell Works, New Jersey's first "Metro Burb". The meeting was moderated by George Vallone, CRE, with guest speakers: Jeffrey J. Garibaldi, The Garibaldi Group; Cecelia Lassiter, Esq., Sills Cummis; and Peter Reinhart, Esq., Director, Kislak Real Estate Institute, Monmouth University.
April 17: The Delaware Valley Chapter held a spring meeting featuring an overview of Ellis Preserve Development and Equus Capital Partners' Headquarters.
April 18: The Georgia Chapter gathered at Topgolf Atlanta. They were joined by 2019 Chair of the Board, Julie Melander, CRE.
May 8: The Southwest Chapter presented a breakfast meeting on West Valley Development with investor and developer Bruce Hilby and broker Dick Wilson.
May 8: The New England Chapter hosted "Multifamily Performance & Investment Trends" featuring speaker Jeanette Rice, CRE, Americas head of multifamily research for CBRE | CBRE Research.
May 10: The Hawaii Chapter held a luncheon meeting on Opportunity Zones with expert Alan Schlissel.
May 13: The Northern California Chapter presented "Any Upside Left in the Economy? And How to Navigate a Changing Retail Market" with speakers Andrew Nelson, CRE, chief U.S. economist for Colliers International and David Greensfelder, founder and managing partner of Greenfelder Real Estate Strategy.
May 22: The Delaware Valley Chapter hosted its annual Real Estate Symposium in conjunction with Villanova University (pictured below).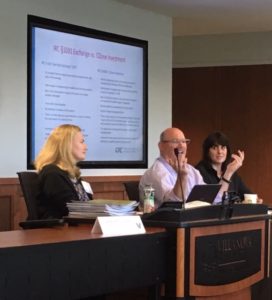 Deborah Cloutier, CRE, left, moderates a discussion on opportunity zones.
Upcoming  Chapter Events
On June 12, the Utah Chapter will host a Real Estate Market Update and luncheon presented by Clarion Partners' David Gilbert, CEO and CIO, and Tim Wang, head of research & strategy.
On September 17, the New England Chapter will hold a joint meeting with the local CREW chapter featuring guest speaker Doug Poutasse, CRE.
Spring 2019 Newsline: Read More