2019 Felt Award
The 2019 James Felt Award for Creative Counseling was presented to Robert Cleary, Jr., CRE, SIOR, FRICS, senior vice president of Colliers International in Boston, and Rob Nahigian, CRE, FRICS, SIOR, MCR, principal of Auburndale Realty Company in Newton, MA, for the adaptive reuse of a former U. S. Army facility in Boston's Seaport District.  For details, click here.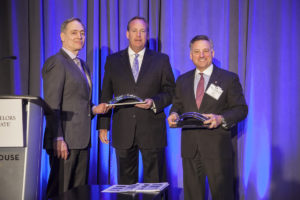 Del H. Kendall, CRE, presents the Felt Award to Robert Cleary and Rob Nahigian.
CREs Launch New Firm
Bill Kinn, CRE, MAI, and Casey Kemper, CRE, ChFC, have launched K4 Real Estate Group, providing asset management, portfolio management, dispute resolution, and mission-focused services for families and non-profits in the Boston-New York-Washington, DC corridor.
CREs Publish Comprehensive Multifamily Report
Paige Mueller, CRE, and Michael Dinn, CRE, worked with Hoyt Advisory Services, the National Apartment Association, and the American Planning Association to conduct a national survey of the regulatory environment and other issues that impact multifamily supply.  Results covered more than 200 markets and indicated that markets with higher regulatory complexity are correlated to higher costs. Read the full report here.
Spring 2019 Newsline: Read More