Disruptors: Are You Prepared?
2019 Midyear Meetings in Chicago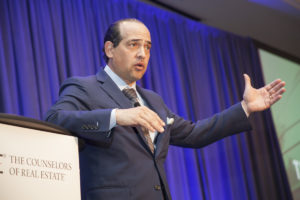 The Counselors' recent Midyear Meetings, held in Chicago, focused on the global and domestic issues likely to have a sustaining effect on real property and the industry in general.  Spencer Levy, head of research and senior economic advisor for CBRE, discussed the "new city," urban meccas that will prosper by offering the key attributes of talent generation through universities, a work-live-play environment, and capital from foreign sources. Additional session topics included the global economy, demographic trends, leveraging data, opportunity zones, development of the Top Ten Issues Affecting Real Estate, asset disposition and reposition, sustainability, the art of collaboration, marginalization, and small business opportunities.  Several development tours highlighted land conservation, modern senior living, the historical developments that influenced Chicago, and the new mega projects which are reshaping the city's neighborhoods and skyline for the next generation.
Speaking Engagements
Julie Melander, CRE, 2019 Chair, spoke at the 35th Annual Meeting of the American Real Estate Society on the benefit of the CRE credential for academicians. Also speaking at ARES were CREs Theddi Chappell, Joshua Harris, Hugh Kelly, Elaine Worzala, and KC Conway.
Theddi Chappell, CRE, MAI, FRICS, SRS, will speak on property assessed clean energy June 9 before the International Economic Development Council.
Robert J. Pliska, CRE, CPA, delivered a 2019 Real Estate Forecast incorporating The Counselors' 2018-19 Top Ten Issues Affecting Real Estate to the Birmingham Bloomfield (Michigan) Chamber of Commerce.
Steve Friedman, CRE, taught a session, Fiscal Impact Analysis, as part of the University of Chicago's and Lincoln Institute of Land Policy's Professional Certificate in Municipal Finance program.
Joshua A. Harris, Ph.D., CRE, moderated a panel on last mile logistics at an event co-hosted by the Mortgage Bankers Association of New York and Loeb & Loeb LLC.
Media & Publications
Anne Joyner Sheehan, CRE, MAI, co-published an e-book with CFO.com on managing commercial property tax risk (link to pdf).  She also blogs at https://www.realpropertytaxadvisors.com/blog.
KC Conway, CRE, MAI, and Jim Costello, CRE, talk about the implications of tariffs on commercial real estate and the economy in general in Connect. https://www.connect.media/the-tariff-cold-war-turns-hot-again/
John Culbertson, CRE, blogs at http://cardinal-partners.com/blog/.
Spring 2019 Newsline: Read More