Career Milestones
Anthony M. Graziano, CRE, was named CEO of Integra Realty Resources, overseeing Integra's strategic growth and diversification across more than 50 valuation and advisory offices in 60 U.S. markets and the Caribbean.
Chris Miers, CRE, has joined the Boston office of NEPC, LLC, as senior research consultant.
Five Counselors of Real Estate Honored as Women of Influence
GlobeSt.com and Real Estate Forum magazine honored five Counselors as 2019 Women of Influence in commercial real estate: Julie Melander, CRE, 2019 chair, The Counselors of Real Estate; Cate Agnew, CRE, Natixis Corporate and Investment Banking; Jennifer Marler, Esq., CRE, Guggenheim Partners; Cynthia Shelton, CRE, LandQwest; and Karen Whitt, CRE, Colliers International.  Karen received a Special Recognition Award as a gold winner in the Humanitarian category, while Cate was recognized as a silver winner in the Consultant/Advisor category.  Congratulations Julie, Cate, Jennifer, Cynthia, and Karen!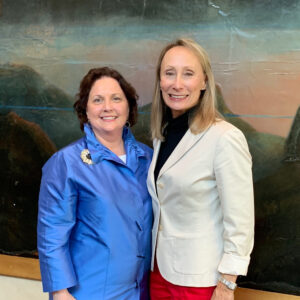 Cate Agnew, CRE, (left), and Julie Melander, CRE, attend the Women of Influence event on July 10 in Broomfield, CO.
Are You a Newsmaker?  Tell Us About It!
One of The Counselors of Real Estate's strongest assets is the diversity of its membership. We'd like to share that fact by encouraging you to share with us noteworthy information such as interesting assignments you've completed, books or articles you've authored, honors and achievements you've earned, or simply your perspective on the profession.  Tell us your stories so we can share the compelling breadth and depth of the CRE network with others. Click here!
Summer 2019 Newsline: Read More