Hugh F. Kelly, Ph.D., CRE, was honored in Nashville as the 2019 recipient of The Counselors of Real Estate's prestigious James D. Landauer/John R. White Award, presented annually to those who have furthered the ideals of the organization and demonstrated both outstanding professionalism in real estate and a notable influence civically.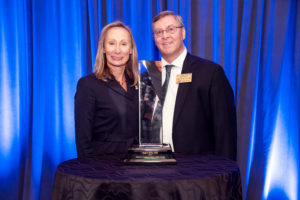 Also honored was Joseph G. Nahas, Jr., CRE, who was awarded the CRE Committee Service Award for exemplary committee and task force service, recognizing Joe's contributions in redesigning The Counselors' Midyear Meeting around the theme of "disruptors" and his efforts to strengthen recognition of the CRE brand.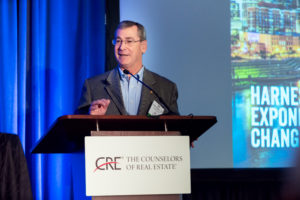 Leslee M. Lewis, JD, CRE, Grand Rapids, MI, has been named a "Woman Worth Watching" by Profiles in Diversity Journal.
James Nelson, CRE, New York, NY, was named a 2019 Real Estate Dealmaker by Real Estate Weekly magazine.
Graham C. Grady, JD, CRE, Chicago, IL, was elected a Life Director of the African American Legacy (AAL) of The Chicago Community Trust. The AAL is a philanthropic initiative led by African American civic and community leaders who share the common goal of improving the quality of life throughout metropolitan Chicago.
K.C. Conway, CRE, MAI, Lilburn, GA, received the Martin S. Katz Memorial Award by the American Property Tax Counsel.  The award is bestowed on those who have significantly contributed meaningful valuation theories and/or developed and advanced the understanding or implementation of more equitable real estate assessment practices.
Steven D. Leader, CRE Emeritus, New York, NY, was selected to serve as a judge and mediator representing the Financial Industry Regulatory Authority (FINRA) in the Eleventh Annual Securities Dispute Resolution Triathlon, in partnership with St. John's University School of Law.
Boston-based Kirk & Company, led by principal David S. Kirk, CRE, has opened a second office in the historic Travers Block building in Newport, Rhode Island.
David Lynn, Ph.D., CRE, Montara, CA, has sold the private equity real estate firm Everest Healthcare Properties to a Forbes Global 2000 firm. He is forming a new private equity medical real estate firm and is inviting institutional programmatic investors to invest in both the platform and individual deals.
Fall 2019 Newsline: Read More