Meet Your 2020 Leadership Team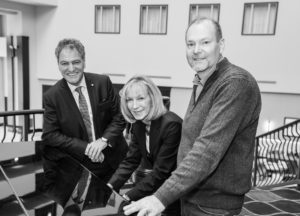 Michel Couillard, CRE, FRICS, president and CEO of Busac Real Estate in Montreal, is the 2020 Chair of The Counselors of Real Estate.  He is the second Canadian to lead the organization in its 66-year history. Mr. Couillard directs Busac's business interests in Canada and abroad, and oversees the firm's asset management, acquisition, and development projects in the U. S.
Marilee Utter, CRE, FRICS, president of Citiventure Associates, LLC, in Denver, Colorado, is the 2020 First Vice Chair. Ms. Utter has developed strategies and solutions for challenging land use problems in more than 40 cities in the U.S. and globally, with a particular expertise in transit-oriented development.
William P.J. McCarthy, CRE, CPM, FRICS, president of W.P.J. McCarthy and Company Ltd. in Burnaby, British Columbia, will assume the chairmanship of The Counselors in 2022. Mr. McCarthy is primarily involved in real property advisory services, property development, leasing, and management, and was the 2018 recipient of The Counselors' prestigious Landauer/White Award.
2020 Membership Liason

John Baczewski, CRE, CPA
President
Real Estate Fiduciary Services, LLC
Danvers, MA

2020 Programming Liason

Jacqueline Buhn, CRE
Principal & CEO
AthenianRazak LLC
Philadelphia, PA

2020 Communications Liason

Casey R. Kemper, CRE
Partner
K4 Real Estate Group
Brewster, MA
Harnessing Exponential Change in Nashville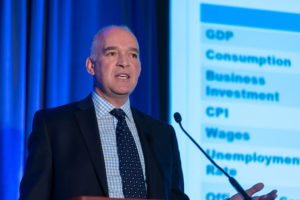 The Counselors' 2019 Annual Convention, November 6-9 in Nashville, focused on the industry's rapid cycle of change and how to leverage resultant opportunities. Sessions included local and global market influences, mega projects and development strategies, opportunities of growth and constraints of congestion, big data and artificial intelligence, the future of healthcare in real estate, the effect of sustainability on profits and survival, opportunity zones, emerging housing trends, and the impact of higher education on real estate assets. Several development tours highlighted Music Row, the historic town of Franklin, Tennessee, and urban redevelopment projects in and around Nashville's burgeoning central business district.
| | |
| --- | --- |
| Counselors tour modular homes in the emerging Wedgewood-Houston neighborhood | Counselors and guests enjoy the Country Music Hall of Fame and Museum |
New Members Welcomed
The Counselors officially welcomed 18 new members from Italy, Canada, and the U. S. on November 7 at the 2019 Annual Convention in Nashville. Specialties among the group include property tax management, data science, valuation, portfolio planning, real estate arbitration and litigation, urban redevelopment, tenant advisory services, investment sales, risk management, affordable housing finance and analysis, and adaptive reuse of historic buildings.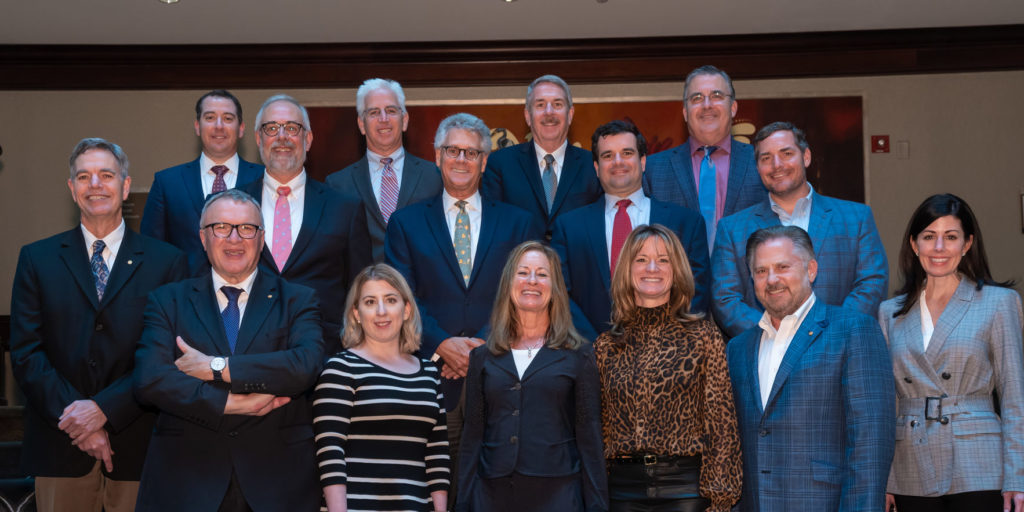 (back row, left to right) Andrew Sabatini, MAI, CRE; Jack Mullen, CRE; Ed Lubieniecki, CRE; Bruce Hahn, CRE; (middle row) Martyn L. Daniel, CRE; Greg Peterson, Esq., CRE; Adam B. Gilbert, CRE; Christopher M. Clough, CRE; Tommy Crozier, CRE; (front row) Leo Civelli, CRE; Megan E. Sassaman, CRE; Randi Rosen, CRE; Julia Hoagland, CRE; Corey Rabin, CRE; and Brandi McDonald Sikes, CRE.  (Not Pictured: Jun Han, Ph.D., CRE; Jennifer A. Marler, Esq., CRE; Jeffrey S. Tibbals, Sr., CRE)
Connect with CRE on Social Media
Followers of The Counselors' LinkedIn page have doubled thus far in 2019—surpassing 1,500—due to an aggressive strategy of strengthening the CRE social media platforms by encouraging member to member dialogue and engagement, repurposing and sharing original and curated content, and better positioning the thought leadership initiatives for which Counselors are known.
Connect now!
Discover the Benefits of Change with the New CRE Foundation
The Counselors of Real Estate Foundation enters a highly proactive new era in 2020 with a mission to commit increased funding to game-changing projects that have a consequential connection to real estate—projects that will make a meaningful difference in communities locally and around the world.  The grant application process will more closely connect the work of the foundation to solving problems identified in the organization's recently trademarked Top Ten list, such as affordable housing, infrastructure, technology innovations, and weather and climate-related risk. Assignments undertaken by the CRE Consulting Corps to provide market-driven counsel to nonprofit owners of real estate will also be a primary focus, as will assisting regions and communities affected by natural disasters to rebuild or mitigate the effects of reoccurrence. Most importantly, The Counselors of Real Estate and those awarded the CRE credential will be front and center in promoting the work of the Foundation and identifying and guiding the projects funded.
2020-2024 CRE Strategic Plan
Assessing the organization's direction in response to a rapidly changing environment, The Counselors has commenced development of its sixth five-year strategic plan, once again with the guidance of an experienced outside facilitator. With strategic planning fundamental to the organization's continued relevance to its membership and the real estate industry in general, focus will be on targeted, diversified membership development and engagement, brand enhancement, the CRE value proposition, a redesigned governance structure, and enhanced "giving back" initiatives.
Fall 2019 Newsline: Read More