CRE Specialty Interest Group Palooza!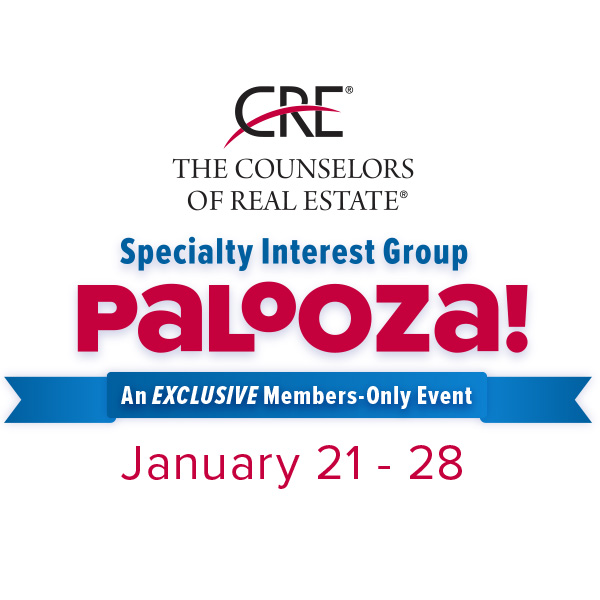 Date & Time
January 21, 2021
-
January 28, 2021
The Counselors of Real Estate is proud to introduce the CRE® Specialty Interest Group Palooza!, a week-long special event and exclusive member benefit beginning January 21 and featuring best practices, new market data, and candid, compelling perspectives from The Counselors' nine Specialty Interest Groups. The meeting may be virtual, but the connections and invaluable information attained will be VERY REAL.
"That was a great session. We are on to something here. Because I belong to so many organizations, I literally could have a dozen-plus webinars and sessions a week, but most of these are self-serving commercials. The Counselors have the intellectual weight and professional outlook that separates us." William McCarthy, CRE, President, W.P.J. McCarthy and Company Ltd.
Asset and Property Management. Finance. Housing and Social Services. Infrastructure. Leasing. Legal and Insurance. Technology. State and Local Taxes. Valuation/Appraisal.
These nine interactive business forums provide Counselors invaluable opportunities to collaborate, exchange information, offer perspective, and pose questions to CREs of similar specialty in an atmosphere of trust and cooperation. Drop in on any of the meetings as your schedule allows January 21 – 28. Your contributions will be valued and the knowledge you take with you will be immeasurable.
Recordings and Presentations
View the Recordings Here
You must be logged in to access recordings and presentation decks from this event.