CRE Specialty Interest Group Palooza!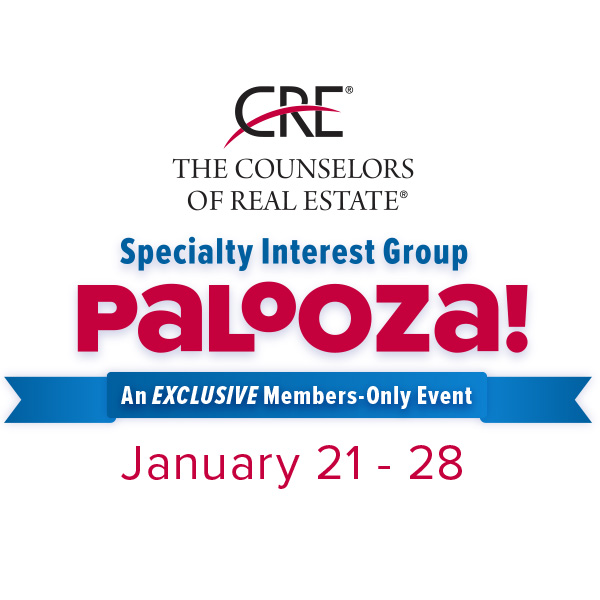 Date & Time
January 21, 2021
-
January 28, 2021
Schedule of Events
Thursday, January 21
Housing and Social Services | 12 PM Eastern Time
Discussion Leaders: Brad Weinberg, CRE, Partner, Novogradac & Company LLP, and Kim Betancourt, CRE, Director of Economics and Multifamily Research, Fannie Mae
Join us at the Housing Interest Group Meeting for fresh data on rent payments, vacancy rates, and revenues. What are you seeing in the market? What do you expect re: housing from new federal leadership? Bring your questions, comments, and experiences to share with your colleagues.
Leasing: Tenant Rep and General | 3 PM Eastern Time
Discussion Leaders: Valerie Pontiff, CRE, Managing Partner, Mohr Partners; and Martin Moore, CRE, Senior Vice President, CBRE
Return to the Office
Guest Speaker: Herb Hafter, Jr., CRE, Senior Director, Global Occupier Services, Cushman & Wakefield
The discussion will focus on "return to the office" in three ways:
When will the United States permit a return to the office at full capacity.  For example, Boston currently allows 40 percent capacity, but demand is for only 7 percent capacity.  When will government allow a full return?
Availability statistics, in the office sector specifically, from Q1 to Q4 2020
Following regulatory permission to return in full, what will actual demand look like in 2022/23?  And how does this differ between company leaders and workers?  And how does that difference drive forecasted occupancy?
Friday, January 22
Finance/Investment | 12 PM Eastern Time
Discussion Leaders: Tom Fink, CRE, Senior Vice President, Managing Director, Trepp, LLC, and Tom Curtin, CRE, Managing Director – Real Estate, State Street Global Advisors
Borrowers are seeking debt restructure. Funds in distressed arenas are actively raising money. Where is future capital going to come from? What is the situation if you're a borrower or lender today and down the road?
Monday, January 25
Valuation/Appraisal | 12 PM Eastern Time
Discussion Leader: Don Bouchard, CRE, Senior Vice President, Lincoln Property Company
In this unusual time, how do you appraise commercial real estate properties? A new set of assumptions have emerged – and uncertainties abound. What will be the (new) normal now and in the future?
Infrastructure | 2 PM Eastern Time
Discussion Leaders: Judith Amoils, CRE, President, Thinking Strategy: New Paradigms, Inc., and Korin Crawford, CRE, Executive Vice President, Griffin|Swinerton
Join the Infrastructure Interest Group for a presentation on Army Fort Monmouth base closure and redevelopment. This 1600-acre site in central New Jersey is in the midst of redevelopment, managed by the New Jersey Fort Monmouth Economic Revitalization Authority (FMERA) with many different private sector partners.
Guest Presenters:
Bruce Steadman, Executive Director, FMERA
Bob Gagliano, CRE, Principal, Gagliano & Company – Bob has been working for the Authority for years, and will be co-presenting this web program with Bruce to discuss the redevelopment project and its impact on the real estate market in the region.
Tuesday, January 26
Prop Tech and Technology | 12 PM Eastern Time
Discussion Leaders: Tom Shircliff, CRE, Co-Founder and Principal, Intelligent Buildings, LLC, and Demetrios Louziotis, Jr., CRE, Partner, Pavonis Group
Framework for Thinking about Commercial Real Estate Tech
Legal and Insurance | 3 PM Eastern Time
Discussion Leaders: Joanne Phillips, Esq., CRE, Partner, Ballard Spahr LLP, Leslee Lewis, JD., CRE, Managing Partner, Dickinson Wright PLLC
Back to the Future: Biden's Plans for Environmental Regulation and How it Affects Your Business
Guest Speaker: Anna Maiuri, Member and Environmental, Energy & Sustainability Practice Group Co-Chair, Dickinson Wright
What is old is new again! Will the upcoming Biden administration's environmental agenda be similar to the Obama-era regulation but now on steroids? Will climate change be the main focus? Join Dickinson Wright's Anna Maiuri, Practice Group Chair Environmental, as she details what changes are coming and what they mean for your business. Key discussion topics include:

What to expect in Biden's first 100 days
Which economic sectors will be winners and losers
How will enforcement change and the expected effects on business
What We Can Expect in Tax Law from the Biden Administration
Guest Speaker: Wendi Kotzen, Partner, Ballard Spahr
Wednesday, January 27
SALT: State and Local Taxes | 3 PM Eastern Time
Discussion Leaders: Todd Jones, CRE, Principal, RealAdvice, and Anne Joyner Sheehan, CRE, Chief Executive Officer, Real Property Tax Advisors
A "round robin" discussion:
What's the most important property tax consideration facing you in 2021?
Who is the ideal client for your business?  What are the business opportunities you foresee?
Thursday, January 28
Asset and Property Management | 12 PM Eastern Time
Discussion Leaders: John Viggers, CRE, Regional Vice President, Cushman & Wakefield Iowa Commercial Advisors, and Bob Rajewski, CRE, Professor of Practice, Undergraduate Program Director – Temple University/Partner in PGain LLC
Where Do We Go From Here?
With our current economic issues, Covid still lingering, PPP, low interest rates, and the changing political scene, how will you position your assets for the future?