2019 Annual Convention – Nashville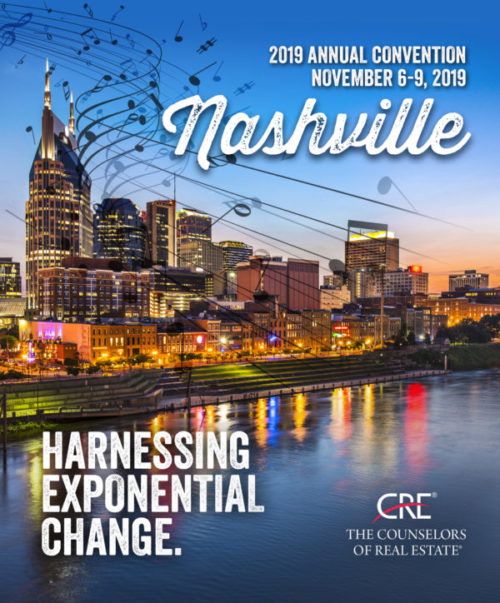 Date & Time
November 6, 2019
-
November 9, 2019
Venue
Hilton Downtown Nashville
121 4th Avenue South
Nashville , TN 37201
United States
Spouse/Guest Information
Wednesday, November 6
(Noon-3:45P) Development Tour: Franklin on Foot!†
A walking tour with lunch
Tour Guide: Margie Thessin, Founder, Franklin on Foot, Author
Just 14 miles from Nashville, you'll find Franklin – an oasis of Southern hospitality housed in a 16-block historic district of award-winning antique shops, brick-and-mortar gift and book stores, fashion-forward boutiques, privately-owned art galleries, lovingly restored homes and more. First, enjoy lunch at Gray's on Main. Located in one of the most historic buildings in downtown Franklin, Gray's places a modern flourish on Southern culinary traditions. Afterward, your Tour Guide, Margie, will lead you on a walking tour of Franklin and explain how it transitioned from a sleepy, run-down Southern town to the hot corporate, tourist, and relocation destination it has become today.
(1:00P-4:00P) Development Tour: Loop Around Nashville†
A walking and bus tour
Tour Guides: Melissa Alexander, Vice President, Foundry Commercial; Elam Freeman, Affiliate Broker, Baker Storey McDonald Properties; and Bert Mathews, Executive Vice President & Partner, Colliers
Greater Nashville's building boom is on the move! Downtown has benefited from exceptional public and private investment in the past decade. You will hear about projects delivered over the past few years, those currently under construction, and those planned for the future. Hot spots of development include: Broadway Corridor, The Gulch, Nashville Yards, WeHo, the new Fairgrounds soccer stadium, East Nashville, North Nashville, Germantown, and River North.
(6:00P-8:00P) Welcome Reception†
Country Music Hall of Fame and Museum
Kick off the convention at Nashville's Country Music Hall of Fame and Museum, one of the city's most-visited cultural attractions, located across from the Hilton hotel. With two expansive floors of gallery space featuring permanent and limited-engagement exhibits – from bluegrass hero Bill Monroe's mandolin to Dolly Parton's original "Jolene" manuscript. Join fellow CREs and guests for cocktails and hors d'oeuvres in this historic venue. You will also have an opportunity to tour the Museum during the reception.
Thursday, November 7
(11:30A-3:00P) Spouse/Guest Event: Smooth As Tennessee Whiskey Experience†
A whiskey tasting, a tasty lunch, and stories of Nashville
Venue: Martin's BBQ
Host: Jim Myers, Award Winning Writer, Journalist, and Former Restaurant Critic
Jim Myers is an award-winning writer, journalist and former restaurant critic who has covered the Nashville food and drink scene for more than 20 years.  He served as a judge for the prestigious James Beard Awards and holds the honorary title of Colonel in both Kentucky and Tennessee, though you can just call him Jim because he can't even get his 13-year-old son to call him Colonel.
Jim will regale you with stories about Nashville – its history, music, culture, restaurants and nightlife, as well as give you a brief history and explanation of what makes Tennessee whiskey different from bourbon, and then lead you through a tasting of Tennessee's finest export. Jim's work has appeared in Bon Appétit, USA Today, Garden & Gun, Nashville Lifestyles Magazine and in "Cornbread Nation: The Best of Southern food writing."
There's no experience more Southern than a visit to Martin's Bar-B-Que Joint.
The restaurant has been featured on the Food Network, Travel Channel, Cooking Channel, and The Today Show and in publications such as Bon Appetit, Esquire, Conde Nast Traveler, and Men's Journal. Enjoy a tour and learn from a pitmaster how Martin's has helped revive the age-old tradition of West Tennessee whole hog barbecue. From the sides to the sauces, everything is made from scratch every single day.
(6:00P-10:00P) CRE Celebratory Dinner†
Acme Feed & Seed
Housed in a national treasure built in 1890 and located in the heart of Nashville, the Acme Feed & Seed has a uniquely 'Nashville' atmosphere that honors the unparalleled character of the city's past, present and future.  The third floor is home to The Hatchery at Acme, and provides unparalleled character, historic charm, and glorious views of Nashville.
We will celebrate The Counselor organization and thank 2019 Chair Julie Melander for her contributions this past year. In addition, we will welcome 2020 Chair Michel Couillard and his wife, Margaret.
And – best of all – enjoy music from a live, Nashville band!  ACME – It's where the Locals go!
(9:30P-11:30P)  Chair's Hospitality Suite
Friday, November 8
There is not a formal spouse/guest tour on Friday.
It's a free day for you to enjoy Nashville and/or you may also participate in one of these ticketed Development Tours.
You are in the historic district where there are many places to shop, listen to music, have a nice lunch, visit a museum, take a trolley tour, or enjoy a spa day!
(11:00A-12:30P) Development Tours†
Ticketed for spouses/guests; part of the business attendees registration.
If you'd like to attend a Development Tour, choose one of these Tours:
Explore The Gulch
Tour Guides: Crews Johnston, III, Executive Director, Cushman & Wakefield; Eric Klotz, Principal, ESa; Dirk Melton, Development Director, MarketStreet Enterprises
The Gulch, a former rail yard and industrial district, was transformed into a vibrant, upscale neighborhood known for its chic hotels, luxury condominiums, high-end fashion boutiques, and trendsetting restaurants.  It's a dynamic area of urban development and redevelopment.  Enjoy a trolley ride over to this neighborhood and experience a presentation by well-known local developers.  Then take a stroll around the neighborhood before heading back to the Awards Luncheon.
Music Row: The Soundtrack of America
Tour Guide: Mark McDonald, Partner, Oldacre McDonald
Home to record label offices, radio stations, and recording studios, Music Row is at the heart of Nashville's country music industry.  Walk in the footsteps of music legends and stand in studios echoing with hits of yesterday, while anticipating the stars of tomorrow.  In addition to Music Row, Mark will take you through you 12th South and Hillsboro Village.
A veteran Nashville-based investor and developer, Mark has been on a real estate acquisition tear of late, having acquired multiple properties in this area.  Join Mark on the exploration of Nashville's Music Row.
Nashville Yards
Tour Guides: TBD
The first sight that many visitors get of downtown Nashville is a 100-foot-high (31 m) construction crane poised over a foundation pit.  As they pass the limestone castle of the old Union Station, the land drops away across the street. Bulldozers swarm over a vast field piled with gravel and sections of concrete pipe as workers lay the foundations of a $1 billion redevelopment.
Learn how major site challenges were handled and hear about the urban structure, mix, phasing, infrastructure, and public-private partnership structure that support these mega projects.
Wedgewood-Houston (WeHo)
Tour Guides: Shawn Bailes, Principal, FMBC Investments; Mark Deutschmann, Founder and Chair Emeritus, Village Real Estate; President, Core Development
Up-and-coming Wedgewood-Houston (WeHo) is a buzzing art hub, with former factories converted into art spaces and studios.  Once a South Nashville industrial area, nicknamed WeHo, it's now an emerging neighborhood with local businesses, retail establishments, galleries and restaurants opening at a rapid pace. It's catering to creatives, millennials, and local entrepreneurs.  The proximity to downtown, relatively affordable rents and real estate prices, and the number of old warehouses, factories and garages have attracted artists, musicians and entrepreneurs to open restaurants, distilleries, breweries, galleries, studios and workshops in the area.
The Tour Guides will also showcase the alternative construction techniques used in many of the WeHo developments.  You will also tour some of the properties Mark and Shawn have developed or are in development.
(9:30P-11:30P) Chair's Hospitality Suite