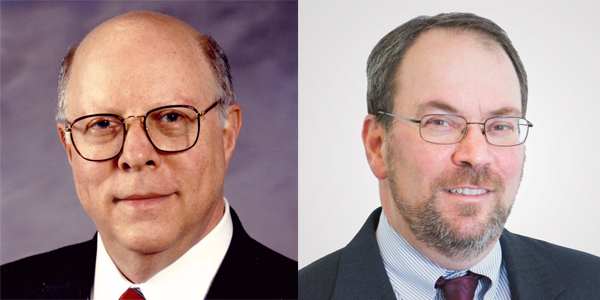 (Left to Right) Jared Shlaes, CRE Emeritus and Noah Shlaes, CRE
---
The CRE Foundation is committed to funding game-changing projects that have a consequential connection to real estate—projects that will make a meaningful difference in your community and communities around the world.
Believing in and honoring that mission was the late Jared Shlaes, CRE Emeritus. The 1993 recipient of the prestigious James D. Landauer/John R. White Award passed away peacefully last year on Thanksgiving morning, surrounded by his family. He wished to leave a lasting legacy and, in his final weeks, talked about those wishes with his children Amity, Jane, and Noah Shlaes, CRE. The family announced in July it is donating $100,000 in Jared Shlaes' memory to The CRE Foundation.
"The Counselors was the only organization he really talked about," said Noah, the 2015 Chair of The Counselors. "It was the first place he sent me with a thorny problem, or an unfamiliar market. It was where he turned to build a team for anything serious. It was also a place where he could seek help from competitors and opponents, and he taught his entire office that 'any CRE who asks for help gets it.'"
"What he really liked were the people," recalls Jane Shlaes. So much so Jared, invited to membership in 1967, brought his teenage children to national meetings, leaving them in the company of CRE family like Abe and Grace Barkan, Neil King, and Joe Farber.
The familial connection goes back even farther—Jared worked with his father, Harry L. Shlaes, one of the earliest CREs. Harry sought the designation to enhance his prestige as an expert witness in the then-new profession of real estate valuation.
The Shlaes children say their father's legacy has three areas of focus: education—in memory of his contributions to both the University of Wisconsin and DePaul University (where he taught Finance 533 with his son Noah) and his involvement with real estate academics throughout his career; writing—to reflect his passion for the written word and his history as the founding and long-time editor of Real Estate Issues and author of "Real Estate Counseling in a Plain Brown Wrapper," published in English and Polish; and international outreach—to reflect not only his belief that global expansion was key to the future of The Counselors, but also his delight in the progress the organization has made in building an impressive global presence.
Bill McCarthy, CRE, 2020 Second Vice Chair of The Counselors, leads the CRE organization's Planned Giving Program. "This gift is transformative for The Counselors of Real Estate and The CRE Foundation. It speaks volumes to how one organization can impact one's life and, in the case of the Shlaes family, three generations," said Bill. "Noah and his sisters were extremely discerning through the planned giving process and reviewed all of the mechanisms in order to do it right. Their generous donation is momentum building for the foundation and inspiring for all of us."
"This is a treasured gift from the Shlaes family," said Jonathan Avery, CRE, Chair of The CRE Foundation.  "Jared thought highly of the organization, and his family's generosity will advance the theory and practice of counseling for generations.  He was a real testament to the profession and a role model for planned giving." •