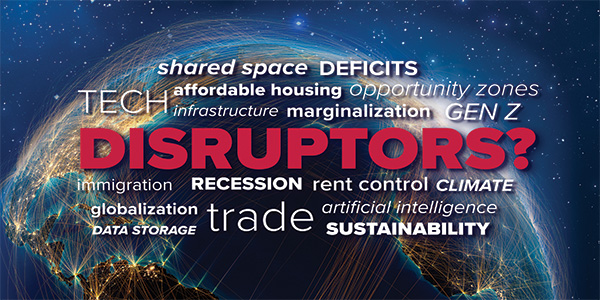 April 28 – 30, 2019
Chicago, IL
The Counselors' Midyear Meetings, held April 28-30 in Chicago, focused on the global and domestic issues likely to have a sustaining effect on real property and the industry in general. Spencer Levy, head of research and senior economic advisor for CBRE, discussed the "new city," urban meccas that will prosper by offering three key attributes: (1) talent generation through universities, (2) a work-live-play environment, and (3) capital from foreign sources. "Your city is immovable. Talent and capital are not, so get more of both," Levy told a full room of Counselors.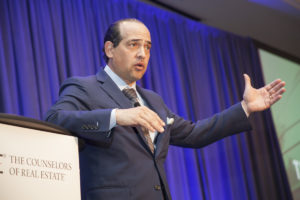 Levy shared seven megatrends he believes will impact the industry: the new city, local versus national politics, demographics, workplace amenities, death of retail, green, and transportation. While Levy believes bricks and mortar retail will survive, he said the preferred property sectors for investment will be industrial and multifamily. "The megatrends that matter depend on your time horizon and a little bit of courage."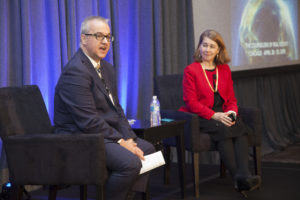 Mary Ludgin, Ph.D. managing director and head of global investment research at Heitman, and Mario Lefebvre, CRE, vice president of research for global real estate markets at Ivanhoe Cambridge Inc., discussed the global economy and the economic realities in several countries, including Australia, comparing them to the U.S. economy. "In the U.S., the check on supply is a recession. In Australia, the check on supply is 'don't build it because there is no demand,'" said Ludgin. She added Australia has seen 29 years of economic expansion without a recession, with the population of Sydney increasing by 2% per year. "This is growth at work."
Lauro Ferroni, senior vice president of JLL, said commercial real estate transaction volume is expected to decrease by 10% in 2019, which will require creative strategies to grow assets under management. "There is an elevated perception of risk in the markets," said Ferroni. "This presents opportunity for those with a risk appetite where there is no precedent."
He added these issues are directly leading to investors structuring transactions in opportunity zones. Ferroni estimates there's been $55 billion in transactions within opportunity zones to date and says about 10% of all real estate is in these census tracts, including 23% of industrial supply.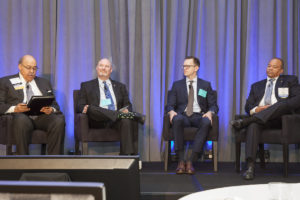 "Not all opportunity zones are created equally," said Teya Moore, Esq., CRE, managing partner of BBRE. "Some have much higher income levels than others."
Additional session topics included demographic trends, leveraging data, asset disposition and reposition, sustainability, the art of collaboration, marginalization, small business opportunities, and the upcoming Top Ten. Several development tours highlighted land conservation, modern senior living, historical developments that influenced Chicago, and the new mega projects that will reshape the city's neighborhoods and skyline for the next generation. •