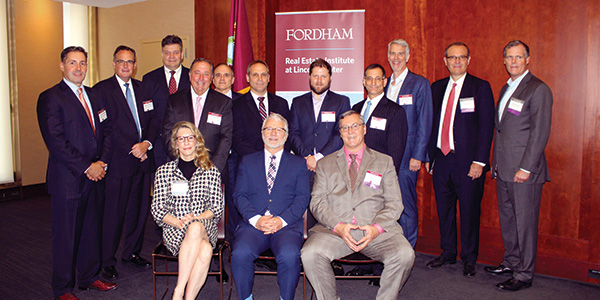 October 2018: Joint Fordham/Columbia University event on "Urban and Suburban Real Estate"
In April 2009, the CRE Foundation approved a proposal by the late Marc Louargand, CRE, to strengthen the role that Counselors of Real Estate play in preparing the next generation of leadership for the real estate industry. Marc's proposal "Counselors in the Classroom," outlined a partnership with the American Real Estate Society, in keeping with the ARES objective to "improve communication and exchange of information in real estate and allied matters among college/university faculty and practicing professionals." (Marc, in addition to being a prominent CRE, was a past president of ARES.) In supporting the Counselors in the Classroom, the CRE Foundation noted that the effort would be "building on current involvement that Counselors have in real estate education while helping establish the Counselors' image as the senior designation for young and aspiring professionals."
Counselors, then and since, have been generous participants in university real estate programs across the country and internationally. This has been nicely in keeping with CRE's deserved reputation as thought leaders. Counselors have served as invited guest lecturers, adjunct faculty at more than a dozen institutions, and as full-time faculty and program leaders in many notable colleges and universities. These have included such programs as MIT; Harvard (Ray Torto, CRE); Villanova (Joe Nahas, Jr., CRE); DePaul (James Shilling, CRE), NYU (Constantine Korologos, CRE), the University of Wisconsin—Madison (Fred Campbell, CRE; Jim Curtis, CRE; Alan Hembel, CRE; and Joe Walsh, CRE); the College of Charleston (Elaine Worzala, Ph.D., CRE); the University of California, Berkeley (Paige Mueller, CRE); the University of San Francisco (Larry Souza, Ph.D., CRE); the University of Utah (Danny Wall, CRE); Roosevelt University (Tom Hamilton, Ph.D., CRE); and many others.
The strong linkage between the Counselors of Real Estate and Fordham University Real Estate Institute in New York exemplifies, in tangible and powerful ways, the impact of experienced practitioners on those eager to learn from them. From Fordham's side, growth has been exceptionally strong. The university took in its first Masters of Science in Real Estate class in January 2018. And, as of May 2019, its MSRE enrollment has surpassed the 100 student mark. From a standing start, Fordham has become a prominent force in the New York real estate community, under the leadership of its Executive Director, Robert Morgenstern. In no small measure, success has flowed from the commitment to the values of collaboration and excellence which Fordham shares with the Counselor organization.
The University has identified four essential pillars to the contemporary real estate educational project. These are:
What do graduates need to know?
What do graduates need to know how to do?
How can graduates exercise mature judgment in life and business?
How can graduates prepare to be responsible leaders in the larger society?
These principles resonate with Counselors, whose practice is based upon an awareness that real estate expertise and thought-leadership depend upon more than mere technical facility. CREs have taught Fordham courses in Market Studies, Economic Analysis, Private Equity, and Real Estate Law, and the professors have included two from out of the local area, Stanley Gniazdowski, CRE, from Connecticut and Brian Blaesser, CRE, from Massachusetts. Counselors Neil Madsen, Tom Fink, and I serve on the Fordham Real Estate Institute's Executive Advisory Council, along with a dozen other representatives of the development, finance, legal and accounting, construction industry, real estate services, and public sector segments of the real estate industry. "Serving on the Executive Advisory Council and teaching at the Fordham Real Estate Institute have been deeply enriching experiences," says Neil Madsen, CRE. "The former has provided an opportunity to collaborate with other seasoned real estate professionals in shaping the program from its earliest stages of formation. The latter has allowed me to participate directly in classroom application and witness the profound effects the program is having on the next generation of real estate leaders, whose enthusiasm and commitment to professional growth is truly inspiring."
Fordham students are offered the opportunity to connect one-on-one with an experienced mentor from the industry. One hundred percent of the students enrolled in the Spring, Summer, and Fall MSRE entering classes have been matched with mentors, and connections for the Spring 2019 new students are now being finalized. Members of the Counselors have been actively engaged in mentorship, with no fewer than a dozen actively serving as volunteers. George Vallone, CRE, has included his students in client meetings and site visits as part of the mentorship experience.
Vallone says, "Throughout history the best teachers teach by telling stories. These stories all have one thing in common. They have an important lesson embedded in a real life experience. The students learn from the story because they can relate to the actors, the situation, and the ending or result." Casey Kemper, CRE, remarked on his student's enthusiasm in connecting what she is learning in the classroom with how the learning is applied in practice. Kemper assisted in the student establishing a written set of goals to guide her entry into the real estate field.
Additional Counselors who have volunteered as mentors include Cate Agnew, Victor Brown, Victor Calanog, Harry Dublinski, Bill Kinn, Geetha Ganeson, and Mike Hedden.
The culture of collaboration widens the opportunities for the university and industry to stimulate thought. The NY Metro chapter of the Counselors worked together with the Professional Women in Construction to organize and present a joint Fordham/Columbia University event on "Urban and Suburban Real Estate" in October 2018, and will again bring an event on "Late Cycle Real Estate Strategies" to Fordham's Lincoln Center campus on October 2, 2019. James Nelson, CRE has also been instrumental in organizing topical events at Fordham with the Real Estate Services Association (RESA) covering subjects such as Tax Reform (at the Lincoln Center campus) and Opportunity Zones (at the Westchester campus).
Although the evolution of the relationship between Fordham's Real Estate Institute and members of the Counselors of Real Estate has gone beyond the specific vision of the "Counselors in the Classroom" proposal of a decade ago, there is little doubt that the spirit of Marc Louargand's ideas continue as an animating force. I expect that continued collaboration will benefit the University and the Counselors. But, more importantly, these efforts will assist the upcoming generation of industry leaders and serve as a template for other schools and other CRE chapters to extend Marc's vision in the decade ahead. •