Contents:
National and International Meetings
Report: CRE 2018 Midyear Meeting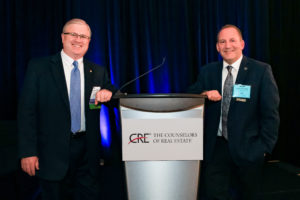 The Counselors' 2018 Midyear Meeting took place in Chicago at the London House Hotel, April 29–May 1. The program included a session with the hotel's developer, John Rutledge, CEO of Oxford Capital, one of the Midwest's leading adaptive reuse companies. The London House property was previously an office building built in the 1920s.
The broader program, focused on Disruptive Forces Impacting Real Estate, included a roster of impressive speakers, panels and development tours. CRE K.C. Conway, director of research & corporate engagement, Culverhouse College of Commerce – Alabama Center for Real Estate, and Geoffrey Kasselman, executive managing director, Newmark Knight Frank and Founder/CEO, Op2mize Energy, conducted a dialogue about "The Exponential Future of Everything." They discussed the speed of change, new business models such as blockchain and bitcoin and what Counselors need to know to adapt to accelerated change in real estate, particularly the technological innovations which are driving the business.
To review the featured programs, click here.
For a list of speakers, click here.
CRE members who log into their accounts may access speaker presentations (if available), click here.
Report: CRE European Chapter International Conference, Rome, Italy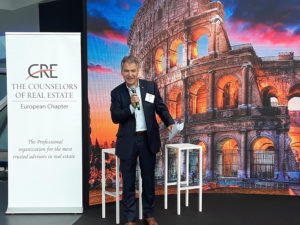 The Counselors' European Chapter hosted attendees from a wide array of countries including the U.K., France, Germany, Turkey, Greece, Italy, the Czech Republic, the United Arab Emerates, Canada, and the U.S. June 7 – 8 in Rome.
Topics focused on financial and real estate investment in Europe and the recovery most European property markets are experiencing despite the widespread political disruption which seems global in scope. Portugal was singled out as a particularly burgeoning real estate market due, in part, to significant growth in tourism. Speakers showed recent statistics on the strengthening European economies and the reasons why development and rehab projects are increasingly robust.
Attendees were also offered  a private tour of The Vatican and its grounds, organized exclusively for The Counselors organization.
To see the program speakers, click here.
Upcoming:  October 20-24 – CRE 2018 Annual Convention, Charleston, S.C.
Counselors will gather in Charleston, S.C., October 20 – 24 for the 2018 CRE Annual Convention. With a theme of: "Where History Meets Hip," the program will provide insight into the resurgence of Charleston as an economic power, and the attraction the city holds for a younger, "hipper" population.
Charleston's bustling port and a proliferation of new manufacturing plants — led by BMW, followed by Boeing and its Dreamliner, Volvo, Mercedes Benz, Samsung, and others — have fueled manufacturing, commercial, and residential growth.  As a result, its real estate market is booming.  The ideas, processes and efforts put forth by Charleston's business leaders and elected officials provide models that can be widely applied in other locales.
A special "Town Hall" 90-minute interactive forum will answer questions about The Counselors organization, with particular emphasis on  the CRE Invitation process. Bring your questions and observations.
For more information about the Convention, review the program, speakers, tours and events, click here.
The Counselors to Participate in MIPIM PropTech Conference in November
The Counselors is participating in MIPIM's 2018 U.S. "PropTech" conference, scheduled on November 6, 2018 in New York City. The event focuses on transformative technology and its application to real estate business operations, development, transactions, sustainability, and return on investment. Discussions are underway with conference organizers to define The Counselors' specific role in the event, which is likely to include speakers from the Counselor membership. For more information, or to register to attend, click here.
Chapter News
Report: CRE Delaware Valley Chapter Symposium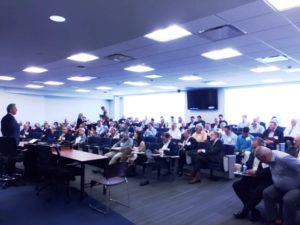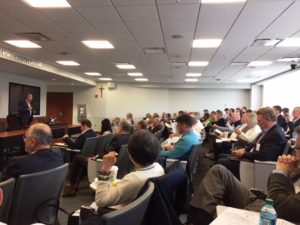 The Delaware Valley Chapter of The Counselors of Real Estate held Real Estate Symposium 2018 on April 24 at Villanova University. The event was hosted by the school's DiLella Center for Real Estate. The day-long program included sessions on global economics; sports and its impact in promoting economic and real estate growth; hot topics and trends in Philadelphia real estate markets; and attractions and incentives that support economic growth and retention in the city.
CRE 2018 Board Chair Joseph Nahas, CRE, senior vice president, institutional marketing and investor relations, Equus Captial Partners, Ltd., Philadelphia, is an adjunct professor at the university and shared photos from the Symposium.
Upcoming Chapter Events:
CRE Chapters are active and engaging–Counselors should note the upcoming dates and activities and consider attending if they are in the area:
August 31 – The Hawaii Chapter will convene for an in depth discussion of Oahu's Land Use Ordinance.
September 6 – The Connecticut Chapter will hold its Annual Lobster Bake at Essex Yacht Club.
September 12 – The Southwest Chapter will hold its monthly informal breakfast
September 12 – The New York Metropolitan Chapter will present "A Fund Manager's Perspective" with guest speaker, CRE 2018 Board Chair Joe Nahas, CRE
September 13 – The Carolinas Chapter will host, Joe Nahas. The Counselors' 2018 Chair of the Board.
September 14 – The Georgia Chapter will hold a luncheon meeting with CRE 2018 Chair Board Chair, Joe Nahas.
September 18 – The Cincinnati/Kentucky Chapter will hold a member luncheon.
September 19 – The Houston/Gulf Coast Chapter will host guest speaker Peter Merwin  and discuss Mixed-Use Development.
September 20 – The Central & Northern Ohio Chapter will hold a member luncheon
September 20 – The New England Chapter will hold a joint session on Institutional Capital and Investment in conjunction with CREW.
September 25 – The Dallas/Fort Worth Chapter will hold a luncheon with a guest speaker.
October 10 – The Southwest Chapter will hold a breakfast meeting
October 18 – The Central & Northern Ohio Chapter will hold a member luncheon
November 6 – The Cincinnati/Kentucky Chapter will hold a luncheon meeting focused on a recap of the CRE Annual Convention program in Charleston (October 24-27).
November 14 – The Southwest Chapter will hold a breakfast meeting
November 15 – The Central & Northern Ohio Chapter will hold a member luncheon
To learn more about these and other chapter events, visit the Chapter & Regional Events page on the CRE website. Some events request advance registration or fees.
Publications News
Read the Latest Real Estate Issues® Articles
Articles published in the Counselors' professional journal, Real Estate Issues, offer a broad range of topics and insights.
"Data Governance: Cybersecurity Oversight and Strategy for Commercial Real Estate" is the latest article featured in Real Estate Issues, now available online at the CRE website.
The authors, Marie-Noelle Brisson, CRE, Senior Advisor and a Managing Partner at SONRO Real Estate Services LLC, and Michael J. Savoie, Ph.D, provide insight into how real estate organizations can better handle and protect company data.
Recently posted articles include "Investor Primer: U.S. Data Center Markets" by Chris Miers, CRE, and Michael McGowan; "Housing Demand and Immigration Trends," by Norman G. Miller, Ph.D., Paige Mueller, CRE, and Michael J. Dinn, CRE; and "Market Value in Use is Not an Oxymoron," by Kerry M. Jorgensen, MAI. To read past articles, or to download a copy of an article, visit the Real Estate Issues section of the CRE website.
If you would like to submit an article for this peer-reviewed journal, read the Writers Guidelines.  Counselors of Real Estate receive each new article as it is published via email. Others may subscribe to Real Estate Issues here.
Read the Current Issue of The Counselor 
The Summer, 2018 issue of The Counselor, the publication in which Counselors and other real estate experts address today's current economic and business issues, is now online at the CRE website. The publication provides executive summary-style reviews, analysis, and discussion of relevant topics along with global perspectives. Members of The Counselors of Real Estate receive a copy of each issue of The Counselor via email at the time of publication. Others may subscribe to The Counselor here at no charge:
• Cover Story: "Top Ten Issues Affecting Real Estate™"
• "How Automation and Data Are Changing the Way Real Estate Works"
• "Relative Value Remains in European Real Estate, Despite Record Low Cap Rates"
You may also download a copy of the Summer, 2018 issue of  The Counselor here.
Counselors: We encourage all Counselors of Real Estate to make Real Estate Issues and The Counselor available to clients and colleagues–a great way to familiarize them with your CRE® credential and the expertise it represents. Just provide The Counselors with their contact information (send to: info@cre.org), and we will send each individual an invitation, on your behalf, to receive both publications at no charge.
Are You Aware of The Counselor's Planned Giving Program?
Recently, The Counselors of Real Estate introduced its Planned Giving Program, enabling members and other interested parties to formally include The Counselor organization in their overall estate planning. Any and all gifts are gratefully acknowledged and may be designated by the benefactor to support a specific Counselor initiative, or earmarked for general use as authorized by the Trustees of the CRE Foundation.
Gifts to this program are often tax deductible (as permitted by law), and can be structured through various options. A guide to the options is included in The Counselors' new Planned Giving brochure
A major goal is to provide Counselors with flexible options for gift giving. With that in mind, gifts are revocable. We invite you to contact Paul Coady of The Counselors' staff (pcoady@cre.org) should you have questions or require additional information on the CRE Planned Giving Program. All inquiries will be held in the strictest confidence.