The Counselors to Launch New Webinar Series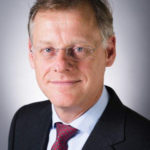 The Counselors of Real Estate is launching a compelling new webinar series in early May to focus on the complicated times in which we live and offer expert interpretation and thought-provoking analysis from real estate influencers worldwide. We are proud to announce that the inaugural, first-in-the-series presentation of The Counselors Webinar Series 2020 will feature CBRE Global Chief Economist & Head of Americas Research Richard Barkham, Ph.D., CRE, who'll share an eye-opening macro and micro perspective on what a post COVID-19 world order may look like. He'll go beyond real estate and examine societal impacts, bringing a sharper focus to the opaque realities of "The New Normal."
Richard is one of the world's leading real estate economists and has extensive consulting experience. He is a Visiting Professor at the Bartlett School of Architecture at University College London. A prolific writer and speaker, Richard holds a Ph.D. in economics from the University of Reading in Reading, England, where he once taught economic theory and the use of advanced econometric modeling. Based in Boston, he leads a team of 700 researchers worldwide.
The Counselors Webinar Series 2020 will feature provocative speakers that not only represent diverse and novel thinking, but often question prevailing thinking. Discover and learn something you hadn't thought of. . .beginning next month. The webinars will offer high impact, high value (they're free!), and a high return. Stay tuned for more details and to save your seat!
The Counselors' Response to COVID-19
Counselors are stepping up, giving back, lifting spirits, and helping communities move forward. CREs are sharing stories from their markets, offering advice and observations, and posting questions on the new Disaster Response Discussion Board in the CRE Member Forum.  The Discussion Board is an interactive and immediate resource and has the capability to be an enormously powerful tool—but only if CREs make it so. Join the conversation!
Additional ways to connect, collaborate, ask, and share are through the popular Request for CRE Expertise which enables CREs to seek guidance or information from the highly responsive CRE global network, as well as the Find A CRE search tool. You're urged to utilize these valuable resources to seek expert advice from—and partnerships with—your Counselor colleagues during these extraordinarily difficult times.
Counselors as Recognized Problem Solvers
Counselors are rich in talent, experience, and generosity of spirit, providing solutions and thought leadership to nations and communities worldwide. As such, The Counselors of Real Estate is seeking examples of volunteer or retained assignments CREs have undertaken as a result of the COVID-19 pandemic.
Are you involved in repurposing vacant or under-utilized properties? Have you been inundated with a barrage of tax appeal work due to plummeting property values? Are you valuing properties hard hit or temporarily shuttered as a result of the "Shelter in Place" directives? Are you focused on advising clients of what lies ahead: the problems they will face and how to address them?
We want to hear YOUR story of working in an unprecedented environment at an unprecedented time.  What assignments, paid and/or pro bono, are you tackling during the "New Normal?" We realize that confidentiality may be a factor, thus please share any details you are willing by emailing info@cre.org, and you will be contacted to provide a personal perspective. This is the moment to make decision makers worldwide aware of the core competencies of CREs and the expert advice for which they've always been known.
Disaster Response: In Their Own Words
Listen to 2020 CRE Global Chair Michel Couillard, CRE, Disaster Response Group Chair Tino Korologos, CRE, and John Viggers, CRE, discuss The Counselors' disaster response initiative on March 6, 2020. Additional information on the Disaster Response Group may be found here.
CRE Meetings and Events
While the CRE Midyear Meetings in Boston and our International Conference in Prague are postponed until 2021, virtual meetings and conference calls are in the planning stages to convene the Ethics, Invitation, Executive, Finance, and Strategic Planning Visioning committees, etc., as well as the CRE Board of Directors to ensure that the business of the organization continues as seamlessly as possible. CRE staff welcomes the opportunity to arrange virtual meetings for any Committee, Task Force, or Chapter that wishes to convene in that way.  Please contact the assigned staff executive or Paul Coady (info@cre.org) who can direct your request to the appropriate person.
2020-2024 CRE Strategic Plan
Development continues on The Counselors' sixth five-year strategic plan with the guidance of an experienced outside facilitator.  With strategic planning fundamental to the organization's relevance to its membership and the real estate industry in general, the focus is on targeted objectives that are meaningful, attainable, and measurable. The Counselors' current invitation process and the CRE value proposition are two particular areas of interest. The 2020 Visioning Group, chaired by Greg Ibbetson, CRE, will hold a series of three virtual meetings this spring and summer to analyze results of the recent member survey, review task force recommendations, and begin composing the new five-year plan. A final meeting will be held in the fall.
Connect with CRE on Social Media
Followers of The Counselors' LinkedIn page continue to increase due to an aggressive strategy of encouraging member engagement, repurposing and sharing original and curated content, and tagging and following relevant social media users. Help us enhance exposure of the CRE designation by encouraging YOUR followers to follow The Counselors on LinkedIn (TheCounselorsofRealEstate) and Twitter (@CounselorsofRE). Get started by connecting now!
LinkedIn | Twitter | Facebook | Instagram
Announcing the Counselor Community Facebook Group
The deep, meaningful connections formed among Counselors make CRE more than just a professional credential, but a personal and powerful community with many strong and lasting friendships. We will soon be introducing a new Facebook group to help Counselors and their families share stories—funny, happy or sad—including random acts of kindness you may have experienced during the pandemic. Stay connected in a personal way by joining the Counselor Community Facebook Group by emailing Alyssa Bray (abray@cre.org).
The Latest in Real Estate Issues
Real Estate Issues is publishing a series on the impact the coronavirus is having on all facets of real estate, from the effects on the economy, to legal issues, to the influence on specific market sectors. Articles are being published on an accelerated schedule to ensure timeliness of the information. If you're interested in submitting a manuscript of 1,000 – 4,000 words or know of someone who may be interested in contributing, please contact us (info@cre.org) to discuss.
The Latest in The Counselor
The Spring 2020 issue of The Counselor will feature results from an exclusive CRE real estate conditions index survey, as well as a Q & A with several Counselors discussing the quandaries clients and communities will face when the economy is reopened. Look for the new issue in mid-May.
CRE Partners with CoreNet Global on COVID-19 Virtual Hackathon
The Counselors of Real Estate is among several real estate groups partnering with CoreNet Global on the "COVID-19 Virtual Hackathon," a special initiative focusing on issues related to the Workplace of the Future. Five Counselors—Judith Amoils, CRE, Markham, Ontario, Canada; Maureen Ehrenberg, CRE, New York, NY; Ed Lubieniecki, CRE, Irvine, CA; Ross Stackhouse, CRE, San Francisco, CA; and Eric Swanson, CRE, Boca Raton, FL—will lend their expertise to virtual groups convening to produce forecasts and recommendations on the specific areas of Space Utilization & Metrics, Distributed Work, Workplace Wellbeing, the Autonomous Workplace, Environment & Climate Change, and Manufacturing. The collective thoughts will be shared when the Hackathon concludes in May.
The CRE Chapter Network
Click here for upcoming CRE Chapter events.
---
Spring 2020 Newsline: Read More