A new feature of the Newsline is a glimpse into some of the interesting or unusual projects that Counselors undertake. This issue focuses on a current project described by CRE Steve Norris: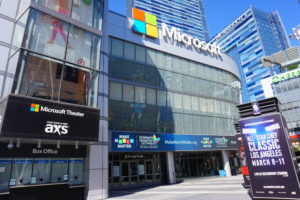 Norris Realty Advisors Principal Steven Norris, CRE. Pasadena, Calif., is conducting a valuation of the Microsoft Theater at LA Live in Downtown Los Angeles for tax appeal purposes. The date of value is retrospective to more than a decade past, when the theater was developed. The venue has been the home of a number of noted concerts and international awards programs, including the American Music Awards, the Primetime Emmy Awards, and the People' Choice Awards. The theater is approximately 235,000 square feet in size and seats 7,100. It is located adjacent to the Staples Center in Downtown Los Angeles.
We'd like to feature your work in a future issues of the CRE Newsline. Please tell us about your counseling projects – the ones you find interesting, challenging, gratifying. We are happy to describe projects without disclosing sensitive or confidential information or clients. To submit one of your projects for this section, email us your idea at info@cre.org and we'll be in touch to discuss it further.