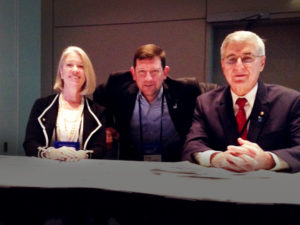 Kathleen Rose, CRE, and Fred Campbell, CRE, discussed the mission and scope of the CRE Consulting Corps at the 2017 REALTORS® Conference & Expo in Chicago.
Kathleen and Fred were joined by Rob Anderson, city manager of Fairborn, Ohio.
During the presentation, titled "Helping Your Community Solve Challenging Real Estate Problems", Kathleen and Fred discussed the work that the Consulting Corps does to help local communities, including a case study of the work the Consulting Corps undertook in the city of Fairborn, Ohio.