Tour Guide, 
Magnolia Plantation and Gardens
---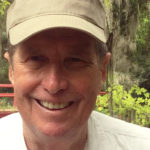 Rick Bennett is a tour guide for the "Slavery to Freedom" tour at Magnolia Plantation and Gardens. He informs guests on the history of the slavery period at Magnolia and allows time for questions and answers. Guests have an opportunity to tour each of the four carefully preserved cabins. He has been at Magnolia for 13 years as a cabin guide, drawn to it by his love of history and biographies.
Born and raised in Houston, Texas. Rick later moved to Southern California where he attended high school and college before moving to Charleston in 2003. Prior to his employment with Magnolia, Rick served 27 years in the Air Force, retiring in 1991, flying fighter planes and carrying out operational assignments followed by 15 years with Aerospace in the Middle East. He has been married for 45 years to Tammy Bennett. He loves to hunt, fish and travel.