Vice President and Chief Commercial Officer, Palmetto Railways
---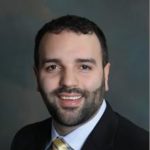 Patrick McCrory transitioned into the Vice President & Chief Commercial Officer role at Palmetto Railways in 2015, where he is responsible for all sales & marketing, business development, strategic planning and intermodal development for the organization.  Upon being hired at Palmetto Railways in February 2013, Patrick assumed the role of Vice President and Chief Operating Officer.  Prior to being employed by Palmetto Railways, Patrick held the positions of Terminal Superintendent, Atlanta/Charlotte and Terminal Manager, Northwest Ohio at CSX Intermodal Terminals, Inc.
Patrick began his career in marine terminals and longshoring with APM Terminals in 2005 serving in a number of management positions including operations, training, safety and human resources throughout the APM Terminals North American network.  Transitioning into the railroad industry in 2010, Patrick was a member of the team responsible for the operational start-up of CSX's Northwest Ohio Intermodal Transshipment Hub where he carried a specific focus on lift equipment commissioning & training and terminal operating & automation systems operational integration.
Patrick is a graduate of the United States Merchant Marine Academy in Kings Point, New York where he obtained a Bachelors of Science degree in Logistics and Intermodal Transportation.
Patrick holds a United States Coast Guard Third Mate Oceans, Unlimited Tonnage License for Merchant Mariners and was formerly an officer in the United States Navy Reserve. He holds membership in the American Short Line and Regional Railroad Association, American Railway Engineering and Maintenance-of-Way Association, Intermodal Association of North America and the Propeller Club of the United States – Port of Charleston.