Vice-President & Partner, Carbonleo
---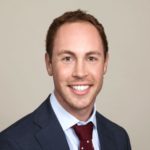 Nicolas Désourdy is a real estate professional with over 10 years of experience in the real estate and retail sales industries, including a strong focus on customer service. As Vice President & Partner, he is responsible for the leasing of commercial and office space across Carbonleo's entire portfolio of real estate projects, with a focus on Quartier DIX30TM. As part of his responsibilities, Mr. Désourdy is actively involved in the master planning of projects, corporate strategic decisions, negotiation of lease and service contracts, as well as overseeing the coordination of different departments responsible for project design and delivery for new tenants.
In addition to his professional activities, Mr. Désourdy is a member of the Montreal and Next Generation committees of the International Council of Shopping Centers.
Nicolas Désourdy holds a Bachelor of Business Administration from the University of Sherbrooke, a Certificate in Urban and Real Estate Management from Laval University, and is a graduate of the University of Shopping Centers program of the International Council of Shopping Centers.