Director Technology, Duff & Phelps REAG
---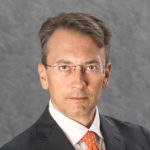 Michail Ivanov is the Director of the Technology Department at Duff & Phelps REAG in Italy.
For his current position he is responsible for supporting the Business with the most adequate technology level in strict cooperation with the Global Business & Technology Department Leader.
He is responsible for coordinating the development and management of business applications, especially focused on Banks sector.
He has over 15 years of experience in management and technology consultancy. Michail joined REAG in 2007 as a Country Manager for Central Eastern Europe, Chairing IT committee for REAG Europe. During this period, he supported business development and start-up activities in Czech Republic, Slovakia, Poland and Bulgaria.
Prior to joining Duff & Phelps, he worked for primary Italian consulting firms.
Michail graduated in Engineering at the Polytechnic University of Turin.