Ryan and Ryan
---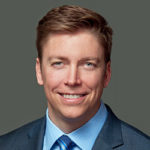 Mr. Ryan is an attorney at the law firm of Ryan and Ryan located in Rosemont, Illinois. He concentrates exclusively on representing private property owners and tenants in eminent domain matters in Illinois.
Mr. Ryan's goal is to obtain the best result for the particular client – whether it involves challenging the government's right to take, obtaining a reduction in the size of taking, negotiating a change in the proposed improvement to be constructed to the client's benefit, or maximizing the just compensation to be paid under the law. He works closely with his clients to obtain zoning relief or any other entitlement approvals in order to minimize the impact caused by the taking.
Mr. Ryan has represented clients with property in Cook, Lake, DuPage, Will, Kane, McHenry, Winnebago, Grundy, Ogle, Kendall, and DeKalb counties. He has extensive experience in both partial takings (both temporary and permanent) and full takings involving all types of property including: agricultural, residential, commercial retail, industrial, office, and special use properties. Mr. Ryan has handled eminent domain cases at the trial, appellate and Illinois Supreme Court level.
Mr. Ryan has lectured on eminent domain topics for local bar associations and at national eminent domain conferences.