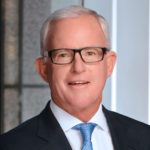 Chairman of the Board, President and Chief Executive Officer, Kilroy Realty Corp.
---
John Kilroy was elected to serve as our Chairman of the Board in February 2013 and has been our President, CEO and a Director since our incorporation in September 1996.
Having led its private predecessor, Kilroy Industries, in a similar capacity, he became its President in 1981 and was elected Chief Executive Officer in 1991.
Mr. Kilroy has been involved in all aspects of commercial and industrial real estate development, construction, acquisition, sales, leasing, financing, and entitlement since 1967.
Mr. Kilroy actively led the Company to be one of the premier landlords on the West Coast with one of the largest LEED portfolios, spanning some of the strongest markets in the country, from Seattle to San Diego.
Mr. Kilroy serves on the board of governors of the National Association of Real Estate Investment Trusts and the Policy Advisory Board for the Fisher Center for Real Estate and Urban Economics at the University of California, Berkeley.
Mr. Kilroy previously served on the board of New Majority California and as Chairman of New Majority Los Angeles.
He is a past trustee of the El Segundo Employers Association, Viewpoint School, Jefferson Center for Character Education, and the National Fitness Foundation.
He was also a member of the San Francisco America's Cup Organizing Committee.
Mr. Kilroy attended the University of Southern California.