Chief Executive Officer, Charleston Area Convention and Visitors Bureau
---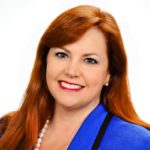 Helen Hill is the Chief Executive Officer of the Charleston Area Convention and Visitors Bureau, the organization the represents 849 member businesses and 9 municipal governments in Charleston and Dorchester counties.  Growing up in Charleston provided Ms. Hill with unique insights she has put to use every day during her 30 years of marketing Charleston as a destination. The Bureau is celebrated for their creative, innovative and authentic marketing programs that have assisted our Charleston area accommodations achieve one of the highest success rates in the country.
Ms. Hill serves on numerous national boards including the US Travel Association. Regionally she serves as a board officer for the Charleston County Aviation Authority and the Southeastern Wildlife Exposition, as well as many statewide tourism organizations.  Ms. Hill enjoys her volunteer activities with Ashley Hall School and her alma mater, Clemson University.  She and her family live downtown and enjoy walking, biking and boating.
Three interesting facts about Helen:
Helen also served as the Chairman of South Carolina Association of Tourism Regions & The Southeast Tourism Society
Hill was the 4th person and the 1st woman to receive the Fred Brinkman Award for Outstanding Tourism Leadership in the State of South Carolina.
Most Recently Helen was named a Vanguard of Travel by Afar Magazine
Three points of why tourism is important:
As one of the main socio-economic drivers in the city of Charleston, Tourism, is a necessary pillar for our community that will help continue the success we have seen both nationally and internationally.
Employing over 40,000 people in the Charleston area, the hospitality and tourism industries provide a world opportunities to those searching for a job or career.
Tourism in Charleston provides a chance for people from all walks of life to experience the history and culture of a city that helped build this country.