Managing Member, Land Analytics, LLC
---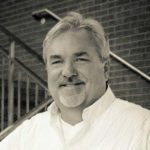 Skip Preble has spent over 30 years of his career showing developers and real estate investors in the US and internationally how to use financial modeling to design their projects. While architects, engineers and planners use lines to design, Skip uses data to design.
Skip does not view financial modeling as simply a way to get money. Instead, he combines market study results, engineering and industry ratio analysis in a comprehensive business model which informs the planning and design process. He builds a collaborative team between himself, the architects, planners, engineers and owners to help them discover, understand and maximize their projects' potential.
Skip holds the CRE, CCIM, and MAI professional designations. He became a licensed real estate broker when he was 17 years old, and has never stopped being a student of the industry.
He is the owner of Land Analytics, LLC in Fredericksburg, Texas (near Austin). In addition to his consulting practice, he is currently developing a 240 acre mixed-use development in Fredericksburg Texas. He has written for a number of real estate publications and is a frequent guest lecturer at Texas A&M University, where he earned his Bachelors in Economics and his Masters in Land Economics and Real Estate.
Skip and his wife Becky have been married for 37 years and have made their home in the Texas Hill Country for the past 30 years.