Senior Vice President, Hospitality and Leisure Asset Management, Aldar Properties | Abu Dhabi, UAE
---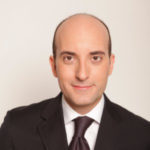 Giuliano Gasparini is a graduate in Economics from Bocconi University (Milan, Italy) and holds a Master of Science in Urban Economics and Planning from Erasmus Universiteit Rotterdam (Rotterdam, Nederland), a Master of Science in Tourism Economics from Bocconi University (Milan, Italy) and a post-graduate course on Hotel Real Estate Investment & Asset Management from Cornell University (Ithaca, USA).
Giuliano joined Aldar Properties PJSC, the largest developer and Property Company in the United Arab Emirates in June 2016 as Senior Vice-President in the Hospitality and Leisure Asset Management department. In this role, Giuliano looks after the hotel and leisure portfolio which comprises 10 hotels, one golf club, one marina and one beach club as well as getting involved with Aldar's development team in pipeline projects through hotel/resort conceptualization, operator search, Hotel Management Agreement negotiations, financial feasibility, etc. Previously Giuliano worked for PKF as a Director and Head of Consulting in Dubai and as senior manager in many major international hospitality real estate consulting firms across several countries such as JLL (Madrid, Spain), HVS (Madrid, Spain), CBRE Hotels (Rome, Italy) and KPMG Advisory (Budapest, Hungary).
Being a Certified Valuer (RICS), Giuliano has been involved in over 500 projects throughout his career, with these ranging from single-asset or portfolio valuations, strategic advisory projects, highest and best use studies, project conceptualization, market and financial feasibility studies, operator selections/contract negotiations, asset management and asset sale/transactions. Projects he has managed and worked on cover several countries across Central and Eastern Europe, Western Europe, North of Africa and the Middle-East.
Giuliano has been involved in single asset valuations in excess of US$ 500 mn and portfolio valuations beyond US$ 1 bn across multiple countries and regions.
Giuliano has been a member of the Counselors of Real Estate (CRE) since September 2016, a Fellow member (FRICS) of the Royal Institution of Chartered Surveyors (RICS) since August 2009, a Fellow of the Institute of Hospitality (FIH) and a member of the Hotel Asset Management Association (HAMA). He is also active in the international academic community being a Professor of Hotel Real Estate at the MBA programme of the IE Business School in Madrid and at the Dubai Real Estate Institute as well as Programme Coordinator for the Master in Tourism at the Abu Dhabi campus of prestigious Paris-Sorbonne University. He has been visiting professor in many universities across Europe, a speaker on hotel-related conferences and has published several articles on hotel valuation techniques, destination management strategies and market studies for several cities across Europe and the Middle-East.