Industrial Specialist, Executive Managing Director, Newmark Knight Frank
---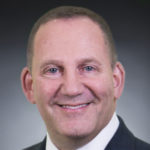 Geoffrey Kasselman, SIOR, LEED AP, serves as Executive Managing Director at NGKF where he leads the company's National Industrial Practice. In this capacity, he guides the direction and expansion of the firm's industrial brokerage capabilities across North America, including supporting various data center projects and promoting the benefits of sustainability, technology and innovation for the sector.
Mr. Kasselman was recently honored as a member of the 2017 Midwest CRE Hall of Fame, a 2016 CoStar Power Broker, and recently won NKF's Outstanding Service Award for 2016, in addition to numerous other honors and distinctions received over his 30-year career. Over the course of his career he has completed more than 1,000 transactions worth in excess of $1 billion. Current or recent clients include ASOS, Cummins, Petco, Assemblers/Skinny Pop, DWR/Herman Miller, Hydrofarm, Gotham Greens, Heys Luggage, IDI Gazeley, and many others. Mr. Kasselman is an innovation-minded futurist focused on harnessing transformative disruption and technology convergence in order to bring actionable ROI to the CRE industry. He has traveled the globe studying smart buildings and smart cities, provides mentoring to several tech startups and sits on various tech firm advisory boards, and he is a prominent national speaker and accomplished author on a variety of topics including economic trends, innovation, sustainability and the exponential future of CRE. He recently gave the Keynote Address to the National Academy of Sciences' Transportation Research Board on Transportation and Mobility. He also serves as CEO and Founder of Op2mize Energy, a strategic energy procurement firm.
In addition to his NKF responsibilities, Mr. Kasselman is serving a one-year term as the 2017 Society of Industrial and Office Realtors® (SIOR) Global President. SIOR was founded in 1941 by the US Government to help secure industrial facilities in support of the World War II effort. In this regard, SIOR has been servicing the commercial real estate industry for over 75 years. In this volunteer role, Kasselman leads the preeminent non-profit commercial real estate services organization in an array of strategic and global initiatives while acting as an ambassador and discussing the many benefits of becoming a SIOR designee.