VICE PRESIDENT & SENIOR ASSET OPERATIONS DIRECTOR at Axium Infrastructure
---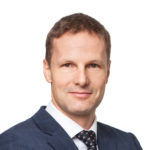 Dominic has over 15 years of experience in infrastructure investment, project financing, asset management and project management.
Dominic has joined Axium Infrastructure at its inception in 2009. He has the responsibility for assets operations and management including portfolio valuation and reporting to investors. Dominic is also seeking new investment opportunities for the fund and is leading the execution of transactions.
Dominic was previously with the Macquarie Capital Funds' asset management group where he was focused on the transportation sector. He also worked as a project manager for a leading HVAC manufacturer.
Dominic is an engineering and finance professional holding an MBA from HEC Montréal and a Bachelor's degree in mechanical engineering from École Polytechnique de Montréal.