Mayor of Montréal
---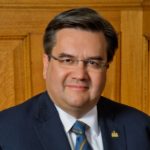 Denis Coderre was elected Montréal's 44th mayor on November 3, 2013, a new beginning in a political career of more than 30 years.
He got started in federal politics in the 1980s, first as president of the Young Federal Liberals Committee in the riding of Bourassa and a member of the steering committee of the Federal Liberal Association of Bourassa.
He was elected to the House of Commons in 1997, where he represented Bourassa as an MP for 16 years without interruption until June 2013, when he announced he was leaving federal politics to run for mayor of Montréal.
As a member of the federal government, Coderre served as Secretary of State for Amateur Sport, Minister of Citizenship and Immigration, President of the Queen's Privy Council, Federal Interlocutor for Métis and Non-Status Indians, Minister Responsible for La Francophonie, and Minister Responsible for the Office of Indian Residential Schools Resolution. He was also a Special Advisor to the Prime Minister for Haiti.
During his years in government, Coderre played an influential role in many projects, including the establishment of the World Anti-Doping Agency's headquarters in Montréal, the adoption of the Immigration and Refugee Protection Act a few months after September 11, 2001, the implementation of measures designed to regulate immigration consultants, and the signing of a Safe Third Country agreement with the United States, which enabled both countries to better manage their refugee programs.
Coderre became mayor of Montréal as the city was going through a rough period marked by episodes of corruption and commission uncovered by the Charbonneau Commission. He promised to steer the city back on track and to make it an outstanding city, both nationally and internationally; a city of which its residents could once again be proud.
Since then, he has put all his energy into mobilizing governments, institutions, private corporations, community organizations and residents to relaunch Montréal.
In addition to being mayor of the Montréal metropolitan community, Coderre became president of Metropolis in 2015 – the largest international organization of cities and metropolitan areas with more than one million inhabitants.
Coderre earned a political science degree from the Université de Montréal and an executive MBA from the University of Ottawa, and was named a Commander of the Order of La Pléiade by the Canadian Branch of the Assemblée Parlementaire de la Francophonie, which recognizes the achievements of individuals who have made distinguished contributions to the ideals of La Francophonie.
Coderre was born July 25, 1963, and is married to Chantale Renaud. They have two children, Geneviève and Alexandre.