President, Fahey + Associates
---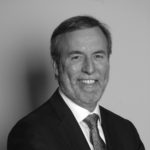 Brian Fahey is the President of Fahey et associés, a firm specializing in urban planning, landscape architecture and urban design. A graduate in Urban Planning with a Masters in Urban Management, he has nearly 30 years of experience in planning and development, in both the municipal and real estate sectors.
His professional approach is based on innovation and the integration of new practices in land-use planning and sustainable development within all types of projects. With this perspective, he presents private developers and public bodies with new methods of intervention and planning for development projects where environmental aspects are the primary focus.
In addition, Mr. Fahey has helped advance numerous residential and commercial real estate development projects. Notably, he planned the redevelopment of the former GM plant in Boisbriand, on behalf of GM Canada, into a mixed-use project and worked on the revitalization of more than 25 shopping centers. In Halifax, he worked on the 400-acre Dartmouth Crossing project, the most important commercial center of the region.
He also worked extensively on the planning of the first commercial property to receive a LEED certification, namely the Faubourg des Prairies. Since 2003, he has participated in the planning of Quartier Dix30 in Brossard, a Lifestyle Centre worth nearly one billion dollars and without question one of the largest commercial projects in Quebec.
Over the years, Mr. Fahey has developed specific expertise in the development of high density, mixed-use real estate projects and Transit Oriented Development (TOD) projects.