Real Estate Investment Strategy Director, Vulcan
---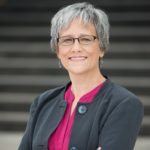 With 30 years of commercial real estate experience, Lori Mason Curran leads the formulation of investment strategy for Vulcan's real estate portfolio. She has an extensive background in the valuation of commercial real estate and her ongoing market research is used to inform acquisition, disposition and overall investment decisions. Lori is responsible for the annual valuation of Vulcan's entire real estate portfolio valued at $3.0 billion.
Lori has been a member of The Counselors of Real Estate for 15 years. She also holds the MAI designation from the Appraisal Institute and is a LEED accredited professional. Lori chairs the Pacific Northwest CRE Chapter and is Chair of the CRE Strategic Planning Committee and Vice Chair of the Institutional Investment Specialty Interest Group.
Lori received a B.A. from Vassar College and her master's degree from New York University.