Principal & Founder, Sagax Associates, LLC
---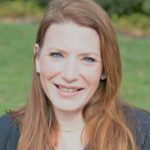 Kirsten McGregor, CRE, Founder and Principal of Sagax Associates, has held prominent roles as Senior Policy Advisor on President Obama's Hurricane Sandy Rebuilding Task Force, Deputy Director of the Delaware Economic Development Office, and Lead Economic Recovery Coordinator for New Jersey following Hurricane Sandy.
Kirsten is a Senior Fellow at the University of Delaware Joseph Biden School of Public Policy's Institute for Public Administration and she is an advisor for UD's Island Policy Lab. Kirsten is a member of the National Association of Development Organizations (NADO) Research Foundation Advisory Committee and a member of NADO's Board of Directors.
She is a certified member of The Counselors of Real Estate, was recognized by Forbes magazine on their "Next 1000" list of small business founders to watch, and also recognized as a "leading woman in business" by Delaware Today Magazine. She has a BA from Franklin & Marshall College and a Masters of City Planning from the University of Pennsylvania.