Managing Director, Accordia Partners, LLC.
---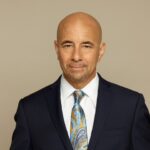 Mr. Sykes currently serves on the following Boards; The Natixis Loomis Sayles Funds Board of Trustees, Apartment Investment and Management Company (NYSE:AIV), The Eastern Bank Board of Advisors, The Federal Reserve Bank of Boston External Diversity Advisory Board, Real Estate Executive Council (Former Chairman & Emeritus), The City of Boston's Civic Design Commission, The Urban Land Institute's New England Advisory Board and NAIOP Massachusetts Board Management Committee.
Previously, Mr. Sykes served on the following Boards: Ares Commercial Real Estate (NYSE: ACRE) Board of Directors & Compensation Committee, The Federal Reserve Bank of Boston Board, 2008-2014 (Chairman 2012-2014, Audit Committee, Business Practices Committee), Capital Crossing Bank Preferred REIT Board of Directors (Acquired by Lehman Brothers Bank), 2004-2009, Bank Boston & Fleet Community Bank Board of Directors 1994-2004, ICON Architects Board of Directors, 2004-2006, Mr. Sykes also served on the Board of Overseers for Beth Israel Hospital, Children's Hospital, Boston University Medical Center and Brigham & Women's Hospital Osher Center.
Mr. Sykes is Managing Director of Accordia Partners, LLC, a Boston based real estate investment and development company. Accordia executes large scale public-private real estate projects with a goal of financial and socially responsible investing success.
Mr. Sykes has been a speaker at Harvard University Business School & Kennedy School of Government, University of Pennsylvania Wharton School of Business, MIT Sloan School of Management and Center for Real Estate, Cornell University Real Estate Program and The League of Historical Cities of the World Conferences in Japan, Turkey and Australia.
Mr. Sykes attended the Harvard University Business School, Owners and Presidents Management Program, the MIT Center for Real Estate Development Commercial Development Executive Program and the L'Ecole Polytechnique in Paris, France. He earned his Bachelor of Architecture from Cornell University.