Marketing and Events Manager, NB Development Group
---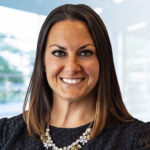 As the Marketing and Events Manager for the NB Development Group, Kim Good is responsible for managing and growing the programming demands, site activation, and event strategy at Boston Landing and the TRACK at new balance (opening in March of 2022). Kim serves as a liaison between the NB Development Group, Boston Landing Tenants and Retailers, the surrounding community, and the marketing teams at The Warrior Ice Arena and the TRACK at new balance.
Kim joins the NB Development Group from New Balance Athletics, Inc. where she spent the last 17 years in sales and marketing managing corporate event planning and supporting go-to-market execution for the global salesforce.
Kim graduated from Boston College with a degree in Communication and is set to complete a Master of Business Administration in Marketing from Purdue University Global in 2023. At BC, Kim was a 4-year member of the varsity field hockey team and currently serves as Secretary for the Boston College Varsity Club.