Research Director, Colliers
---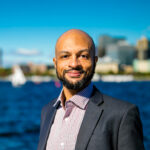 As Research Director, Jeff Myers leads the research operation of the Boston office of Colliers. A 20-year industry veteran, Jeff brings an extensive commercial real estate background that includes expertise in city planning, market research, landlord representation and more.
Since joining Colliers in September 2021, he has focused on synthesizing real estate, demographic, and economic variables to support brokers and provide clients with strategic and actionable insights. In addition to tracking and analyzing pertinent trends, Jeff leads the production of quarterly reports highlighting activity in the market.
Prior to joining Colliers, Jeff held the position of Deputy Director of Portfolio & Asset Management at Massport, the port authority in the Commonwealth of Massachusetts. During his time with the organization, he and his team managed 9+ million square feet of commercial real estate across 500 acres. Jeff was heavily involved in lease negotiations, leasing strategies, tenant relations and market research to aid stakeholders by providing critical information needed for their decision-making processes.
Before joining Massport, Jeff spent more than 11 years as a consultant and real estate economist at CoStar Portfolio Strategy. While there he developed extensive knowledge of the commercial real estate business as well as strong skills in client engagement and industry analysis. During his tenure with CoStar, Jeff provided strategic advice to institutional real estate investors across multiple sectors and geographies. Jeff also has municipal city planning experience in Indiana and Georgia.