Founder & Managing Partner, Fulcrum Macro Advisors
---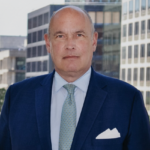 Having worked as a senior executive on Wall Street as well as having served in senior government roles, Frank Kelly brings extensive global experience and insight into the public policy decision-making process and its impact on global markets.
Frank began his career as a writer for President Ronald Reagan and went on to serve in the White House Office of Political Affairs. He served as a writer for President George H.W. Bush and then served at the Justice Department in the Office of Policy Development, focusing on national security and international issues. Frank joined the US Securities and Exchange Commission as Senior Policy Advisor to the Chairman and Chief Spokesman for the Commission as well as a member of the SEC senior staff.
He then joined Merrill Lynch Investment Banking in New York serving as Chief of Staff and Global Head of Marketing for Investment Banking, Sales & Trading. Frank was also a member of the German/Swiss/Austria country coverage team and was involved in numerous large cross-border deals. He returned to Washington DC to establish Charles Schwab & Co.'s first Global Government & Regulatory Affairs operation. He served as both the Senior Vice President and Global Head of Government Affairs and the firm's first Chief Political Strategist.
Frank joined Deutsche Bank in 2003 as the Bank's first Head of Government Affairs and then later became Global Coordinator for Government & Public Affairs. He was also the Bank's first Chief Political Strategist. In this role, he advised the Bank's top institutional clients globally on US and geopolitical issues. He also has extensive experience in mergers and acquisitions, establishing and heading the bank's Direct Investment Advisory Group (DIAG). Frank and his team advised corporations on sensitive national and economic security-related mergers and acquisitions seeking approvals from the US Committee for Foreign Investment in the US (CFIUS).
He is a member of the board of directors of Barnwell Industries, a diversified oil/gas drilling/land development company, and a Senior Advisor to The Scowcroft Group, a global business advisory firm with an emphasis on emerging markets. He is an adjunct professor at The Catholic University School of Business teaching coursework on Business Intelligence and Risk Assessment. He is also a Senior Associate with the Americas Program at the Center for International and Strategic Studies (CSIS) in Washington where he focuses on Latin American politics, economics, and trade.
Frank is a member of the Council on Foreign Relations, the International Institute for Strategic Studies, the American Council on Germany, and the American Institute for Contemporary German Studies.