Director, Research | Newmark
---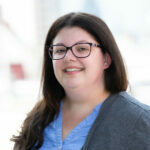 Liz is a seasoned commercial real estate researcher and economist with 16 years of experience providing insights on the Greater Boston market and beyond.
In addition to producing reliable data and market analyses as Research Director for Newmark's Boston office, Liz authors the firm's quarterly market reports as well as white papers, blog posts and guest columns on relevant trends and happenings in the commercial real estate universe. She is an experienced presenter who is often quoted by local, regional and national publications such as the Wall Street Journal, the New York Times, the Boston Business Journal and NPR. Prior to joining Newmark, Liz spent several years leading the research departments of other local brokerage firms such as Colliers and Hunneman, beginning her career as a Real Estate Economist with PPR/CoStar.
Besides maps, graphs and data she enjoys pineapple on pizza, British crime dramas and 90's Hip Hop. With degrees in Economics, Geography and Global Studies from Assumption College, it's no surprise that she is an avid reader and life-long learner.