Managing Director, Head of Strategy and Research at BentallGreenOak
---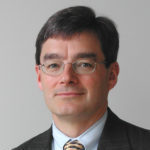 Doug Poutasse is Managing Director, Head of Strategy and Research at BentallGreenOak, with overall responsibility for overseeing the strategy of U.S. and Canadian investments and directing the research teams. He serves on the US Management Committee and US and Canadian Investment Committees.
Doug has over 35 years of experience as an economic analyst and forecaster. Prior to joining BentallGreenOak in 2010, Doug served as the Executive Director of The National Council of Real Estate Investment Fiduciaries (NCREIF), and chaired the Real Estate Information Standards Board from 2007- 2010. Prior to his work at NCREIF, Doug was the Chief Investment Strategist for AEW Capital Management, where he chaired the Investment Policy Group, was a standing member of the Investment Committee and oversaw AEW Research, the firm's in-house research group. Prior to joining AEW in 1991, Doug was with F.W. Dodge, where he managed real estate and construction forecasting, and with DRI/McGraw-Hill as Manager of Metropolitan Forecasting.
Doug holds a BA from Harvard University. He is a member of the Urban Land Institute and the Pension Real Estate Association (PREA). In 2005, PREA awarded Doug the Graaskamp Award for his high-quality research in the area of institutional investment in real estate.