Executive Vice President of Finance and Chief Financial Officer, Boys & Girls Clubs of Boston
---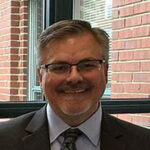 Dave Libby, Executive Vice President of Finance and Chief Financial Officer, started at Boys & Girls Clubs of Boston in 2011 as the Controller for the organization, and previously held the roles of Director of Finance and Associate Vice President of Finance. Prior to stepping into the EVP and CFO position, Dave worked hard to update and streamline systems and processes within the Finance Department, working to make the budgeting and financial reporting processes more efficient and transparent. Dave leads a robust team that includes the Finance, Facilities, and IT groups.
Prior to coming to work for BGCB Dave held the position of CFO at Greater Lynn Senior Services, a large non-profit located in Lynn with an annual operating budget in excess of $50 million. Dave also spent several years in public accounting where he first worked directly with nonprofits.
Dave received his Bachelors in Business Administration from Saint Joseph's College of Maine and earned his Master's in Leadership from Duquesne University.