Managing Partner, Saybrook Real Estate Advisors LLC
---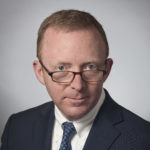 Tom Wootten advises investors and Fortune 500 companies on billions of dollars in real estate assets around the world to better align operational, risk and financial objectives. He has personally directed activities including acquisition, disposition, restructure and joint venture negotiations; operator/investor alignment review and strategic option analysis to recover/preserve cash flow and asset value; oversight of complex real estate assets in a fiduciary context; investment analysis and development advisory work on large infill development projects; loan workouts; real estate investment banking; and asset monetization strategies.
Mr. Wootten's private sector clients have included: Bank of America, Bayer, CSRA, Con Edison, Danone, Exxon Mobil, Goodwill, Hewlett Packard, Novartis, Vectra Bank and Whirlpool Corporation, among others, in addition to private investment firms, foundations and family offices. He is focused on various asset and portfolio strategies including property workouts, restructuring and repositioning; asset monetization; harnessing credit quality to reduce risk and improve stability; M&A deal advisory and assessment of financial windfall; and creative repurposing, repositioning and redevelopment of underutilized assets to help recover stranded capital investments.
As Executive Managing Director at Newmark Knight Frank, Mr. Wootten led strategy, analytics, and market positioning of complex assets worldwide. Before joining the advisory world, Mr. Wootten worked in house as director of regional real estate for AT&T Broadband/ MediaOne. Throughout his career, Mr. Wootten has worked across North America, Europe, and Asia Pacific on all real estate asset types.
Mr. Wootten is a recognized speaker both domestically (Counselors of Real Estate, CoreNet Global, NAIOP, others) and internationally (European Property Conference – Athens), and has been an adjunct professor to the University of Colorado-Denver Graduate School of Planning and Urban Design, teaching real estate finance and development (Awarded Top Rated Faculty). Mr. Wootten co-authored a study on real estate asset bubbles for the World Economic Forum (2016). He is a member of The Counselors of Real Estate and a Fellow of the Royal Institution of Chartered Surveyors.
Mr. Wootten holds a Bachelor of Arts degree from Yale College and a Master of Science degree with honors (Beta Gamma Sigma and Sigma Lamda Chi) in real estate and construction management from the Burns School of Real Estate at University of Denver's Daniels College of Business. He serves as an alumni interviewer for prospective undergraduate applicants to Yale, an interviewer for candidates to the Counselors of Real Estate, is a Member of the Board of Trustees and Chair of the Buildings and Grounds Committee at Colorado Academy, a Denver-based K-12 independent private school.