President & CEO, Research Triangle Foundation
---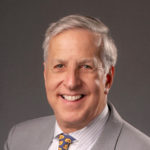 Scott Levitan was hired in August 2017 to lead the Research Triangle Foundation as its CEO & President. He has over 30 years of experience working in mixed-use development, with an emphasis on university-related research parks.
Prior to his current role, Scott was the Vice President of Forest City Realty Trust and Development Director for the Science + Technology Park at Johns Hopkins and the New East Baltimore Community. There, he oversaw a $1.5 billion initiative directly adjacent to The Johns Hopkins University medical campus that includes life science research and office space, residential, retail, a new public park and a community school. Prior to that, he was the Executive Director of Real Estate Development for Georgia Institute of Technology, where he oversaw all real estate planning and development activities for the Institute. During his tenure, he oversaw the development of Technology Square, a 1.6 million-square-foot institutionally sponsored but privatized development initiative in Midtown Atlanta.
Scott holds a master's degree in urban design from Harvard University, a master's in conservation studies from the University of York in York, England, and a bachelor's in architecture from Louisiana State University. He is active in a number of real estate industry organizations, including the Association of University Research Parks (AURP), for which he serves as Vice President.