Vice President, Research – Global Real Estate Markets, Ivanhoé Cambridge
---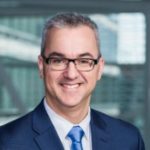 Mario Lefebvre leads Ivanhoé Cambridge's Research Team and supervises its work. The Team monitors the economic and real estate fundamentals of markets from around the world, focussing particularly on the markets in which Ivanhoé Cambridge is already well established and on potential new markets. The Team also monitors the performance of companies in which Ivanhoé Cambridge has a vested interest. The Team works closely with the Investment Group, the Portfolio Management Group and the Risks Management Team. Mario Lefebvre is also a member of the Caisse de dépôt et placement du Québec's Research Committee.
Mr. Lefebvre is an economist who began his career in 1991 at the Bank of Canada, where he worked in both the Research Department and the International Department. In 1998, he joined The Conference Board of Canada where he stayed a total of 16 years. He first worked for the International Services Group of the Conference Board, which led him to be involved on projects with several Ministries of Finance, including those of Tunisia, Morocco and Ukraine. From 2002 to 2013, Mario Lefebvre was the Director of the Conference Board's Centre for Municipal Studies. In January 2014, Mario Lefebvre joined the Québec Urban Development Institute, where he served as President & CEO for two years, before joining Ivanhoé Cambridge in January 2016.
Mario Lefebvre holds a Bachelor's and a Master's degree in Economics from the University of Montreal. He was Chair of the Economic and Public Policy Committee at the Board of Trade of Metropolitan Montreal from 2011 to 2013. He currently is Chair of the Public Policy Committee at the Quebec Economic Association. He co-authored the book Power Play: The Business Economics of Pro Sports, published in March 2014.