Managing Partner, BBRE
---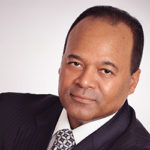 K. "Teya" Moore, Esq., CCIM, CRE has extensive experience with asset-based or secured and unsecured financing techniques, project financing (such as mergers and acquisitions, private equity and debt offerings) including non- acquisitive reorganizations, asset dispositions and asset recovery. He has served as legal counsel (finance) to the Maryland Energy Administration and Office of the Attorney General, State of Maryland, to help finance energy efficient measures statewide and to large institutional lenders where he structured or facilitated complex transactions for Barclays Business Credit, Inc., Bank of New York and Wells Fargo Bank.
Mr. Moore served two (2) terms on the Board of Directors of EBDI, a public- private partnership established to oversee the redevelopment of East Baltimore. In 2014 he was reengaged by the Annie E. Casey Foundation and its partners – Johns Hopkins University, Baltimore City and EBDI, to help manage a community and economic development fund for reinvestment in local businesses. He has chaired a number of vital local county public policy initiatives and he served over ten (10) years as special counsel to the office of Research and Technology Applications at Fort Detrick, Maryland, where he structured complex joint ventures and technology exchanges to promote privatization of military technologies with national implications for the public benefit.
Mr. Moore is admitted to the bar in the States of Maryland, New York and the District of Columbia and is a licensed broker in Maryland and the District of Columbia. He is the Managing Partner of Moore & Associates (www.kteyamoore.com), and the Principal Broker of Benjamin & Banks Real Estate, LLC (www.benjaminandbanks.com). Mr. Moore has a Juris Doctorate from New York University School of Law and an LL.M. (Masters in Taxation) from Georgetown University, Law Center.
Public Sector Clients
Maryland – National Capital Park and Planning Commission
Baltimore City Delegation
Prince George's County, Redevelopment Authority
State of Maryland, Office of the Attorney General
U. S. Department of Treasury, under the Special Inspector General for Troubled Asset Relief
Walter Reed Army Institute of Research, a United States Department of Defense Policy and Research Institute
Maryland Energy Administration
Honors
Riesman Award (Outstanding Scholastic and Community Service).
Distinguished Community Service Award, Baltimore City Council.
NASDB – Small Business Advocate of the Year Award.
Proclamation, Chair (Equine Industry): Prince George's County Council.
CCIM Jay W. Levine Academy, the "Susan J. Groeneveld Award of Excellence.
M-H AV honor, highest rating for legal ability and ethical standards: 23 years.
Speeches, Publications and Industry Outreach
A Wealth Disparity Study – A Shattered Foundation: Revisited, Washington Post Op-Ed
Crowdfunding: A Forward-Looking Overview, CCIM Presentation (2015)
Taking Stock: An Equity Stake in Private Industry, TEDCO Presentation (2004)
SBA Panelist: Dept. of Transportation "Small Business Ventures" (2002)
Appointments/Engagements
Currently: Legal & CRE Broker Activities: Manages up to 1M sq. ft. of retail/office space
2019: Presidential Liaison, Membership – CCIM Institute
Executive Committee
Finance Committee
Strategic Planning Committee
Government Affairs Committee
Designation Committee
Professional Standards Committee
2018: Chair, NAR Commercial Legislative and Regulatory Advisory Board
2017: Invited to The Counselors of Real Estate, CRE credential awarded
2017: Vice Chair, NAR Commercial Legislative and Regulatory Advisory Board
2017 – 2019: Member, CCIM Board of Directors (3 Year Appointment)
2017: Member, CCIM Board of Directors – Mid-Atlantic Chapter (DC/MD/VA)
2016: Member, Real Estate Roundtable, Real Estate Capital Advisory Committee
2016: RVP, CCIM Region 10 (DC, MD, VA, PA, Del., & NJ)
2016: Chair, CCIM Government Affairs Committee on Commercial Real Estate
2015: Immediate Past-President: CCIM Mid-Atlantic Chapter (DC/MD/VA)
2013 – 2014: CRE Broker and Legal Counsel – PG County Redevelopment Authority
2012 – 2014: CRE Consultant – M-NCPPC (Westphalia)
2002 – 2014: Eco & Comm Dev Advisor – EBDI: Johns Hopkins Life Science Project
2013: Chair, Prince George's County COC Symposium and 22 Member Work Group
2010 – 2011: Chair, Prince George's County Equine Industry Task Force