Chairman of the Board & CEO, Ryman Hospitality Properties
---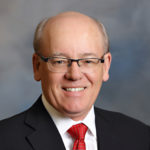 Colin V. Reed became chief executive officer of Ryman Hospitality Properties (formerly Gaylord Entertainment Company) in May 2001. Reed was named in August 2004 by the Company's board of directors as chairman and added those responsibilities in May 2005.
Since joining the Company, Reed has successfully led the Company's strategic reorganization as a hospitality and entertainment company through the Gaylord Hotels and Grand Ole Opry brands. In that time, he has led the Company's efforts to divest more than $300 million in non-core assets, strengthened its balance sheet and repositioned it for future growth as a Real Estate Investment Trust with a rapidly-growing Entertainment segment.
Prior to joining the Company, Reed was chief financial officer and a member of the three-executive Office of the President for Harrah's Entertainment Inc. He joined that company in 1977 as a financial controller for its former Holiday Inn International Division.
From 1999-2001 he served on the board of directors of Harrah's Entertainment. Reed previously served on the Bass Pro Shops and Rite Aid board of directors and currently serves as lead director for First Horizon National Corporation. He also serves as the chair of the Tennessee Tourism Committee.