Executive Vice President & Partner, Colliers
---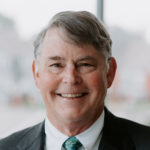 Bert Mathews is president of The Mathews Company, a leading commercial real estate development company in Nashville, TN, and is a partner with the brokerage firm Colliers International/Nashville. Bert has been a leading force in the Nashville area's vibrant commercial real estate industry and active in the city's civic and nonprofit communities, playing key leadership roles in efforts to move Nashville forward for more than four decades.
As the third generation leader of The Mathews Company, Bert is carrying on the family tradition of community leadership and corporate success started by his grandfather Robert C.H. Mathews and continued by his father, Bob Mathews Jr. Bert counts among his accomplishments the transformation of the historic Trolley Barns at Rolling Mill Hill, which transformed the property into an entrepreneurial hub, redevelopment of The Stahlman Building, Lofts at 160 and dozens of other successful developments in and around downtown Nashville.
Bert joined The Mathews Company in 1984 and became president in 1992, overseeing development, acquisitions and financing for both portfolio and third-party properties, which total more than 8 million square feet.  As a commercial real estate broker, Bert and his team at Colliers International/Nashville, have emerged as one of the top brokerage firms in Middle Tennessee. With more than 65 professionals, Colliers currently leases and manages over 7 million square feet of commercial space and has ranked in the top four commercial real estate firms in the city for the last four years.
Bert is a national leader of the Urban Land Institute, currently serving in the highest level of leadership as Global Trustee, advising on land use practices worldwide. He has won numerous awards for commercial real estate development in Nashville, including the 2019 Lifetime Achievement Award from the Nashville Business Journal. He has chaired the Nashville Area Chamber of Commerce, the Metro Transit Authority and the Nashville District Management Corporation; was Vice Chairman of the Metropolitan Nashville Airport Authority, and has served on the boards of numerous organizations, including the University of North Carolina's General Alumni Association.
He and his wife Brooks are the parents of five.