Contents:
The Counselors Announces List of Top Ten Issues Affecting Real Estate™ at Real Estate Editors Conference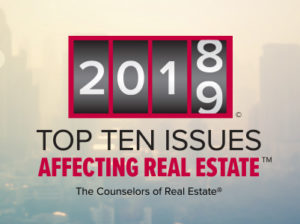 The Counselors' annual list of the Top Ten Issues Affecting Real Estate™  2018-19 was announced during the keynote address of the National Association of Real Estate Editors annual conference in Las Vegas by Joseph G. Nahas, Jr., CRE, 2018 chair of The Counselors of Real Estate. The conference attracts more than 200 journalists who specialize in stories covering commercial and/or residential real estate.
In a break with tradition, the 2018-2019 list differentiates between current and long-term impacts on real property. "Counselor clients seek advice on today's issues which will impact property today – and those which will impact their decisions over the next ten years. This year's change in the way the list is presented clarifies that differentiation," said Mr. Nahas.
The list is developed annually by members of The Counselors' External Affairs group, led this year by Victor Calanog, Ph.D., CRE, chief economist and senior vice president, Reis, New York, N.Y., and Hugh F. Kelly, Ph.D., CRE, special advisor, Fordham University Real Estate Institute and principal, Hugh F. Kelly Real Estate Economics, New York, N.Y. The 1,100 CRE members around the world undertake an extensive collaborative dialogue on current issues and trends to identify the final list. To see the full list, click here.
Media Coverage Extends Awareness of The Counselors and the CRE® Credential
Stories about the 2018-19 CRE Top Ten Issues Affecting Real Estate™ — and other stories quoting members of The Counselors of Real Estate—make a major difference in increasing visibility for The Counselor organization and the CRE® credential:
Commercial Property Executive (Video interview)
Commercial Real Estate Show #1  (Video Interview)
Commercial Real Estate Show #2 (Video Interview)
Information about The Counselors' Top Ten Issues Affecting Real Estate™ 2018-19 also appears on hundreds of blogs and both media and real estate industry websites.
In a follow-up story in Real Estate Weekly, Joe Nahas, Jr., CRE, was interviewed for the story about "New Buildings, Same Old Carbon, as Materials Drive Greenhouse Gas Emissions," which addressed costs (financial and environmental) of building new vs. retrofitting, as well as climate change (one of The Counselors' 2018-19 Top Ten Issues Affecting Real Estate—ranking third in the longer-term effects category.)  Read the full story here.
Kevin Phelan, CRE, Featured in Bisnow National Edition Interview
A recent story in the national edition of Bisnow featured Kevin Phelan, CRE, co-chairman, Colliers International – Boston.  In the "Beyond the Bio" story, Mr. Phelan answered questions ranging from how he began his career in real estate to how he spends his spare time.  The story prominently mentioned The Counselor organization, and showed a photo of Mr. Phelan receiving The Counselors' Landauer/White Award in 2014.  The story appears on the Bisnow website and was distributed in both the national edition and a number of city-specific editions, including Chicago and Denver.
Counselors Speak at Catholic Church Real Estate Conference
Two Counselors of Real Estate, David Baird, CRE, managing director, strategic advisory services, Cushman & Wakefield, Baltimore, and Hugh Kelly, Ph.D., CRE, special advisor, Fordham University Real Estate Institute and principal, Hugh F. Kelly Real Estate Economics, New York, N.Y. , described how Counselors and the CRE Consulting Corps can help Catholic dioceses ensure appropriate new uses for Church buildings sold or leased to non-Church entities. As demographics shift, real estate directors who work for Catholic dioceses often seek guidance regarding the disposition of churches, schools and other parish properties: how to expand to meet demands of growing parishes and/or how to more effectively manage church assets. The Counselors' program session focused on "Effectiveness of Morality Causes when Attached to Purchase Agreements and/or Deed Restrictions in the Sale or Lease of Former Religious Properties."