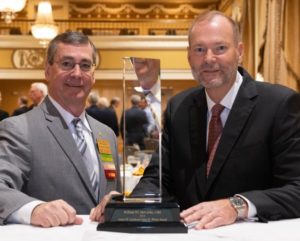 (Chicago)—December 11, 2018—The Counselors of Real Estate® (CRE) professional association has named William P. J. McCarthy, CRE®, the recipient of the 2018 James D. Landauer/John R. White Award–the highest honor conferred by the invitation-only organization. McCarthy was invited to CRE membership in 1995; he is one of only 1,100 members worldwide—and one of fewer than 20 in Canada.
The award, presented at The Counselors' recent annual convention in Charleston, S.C., recognizes Mr. McCarthy's impressive career and leadership in the real estate industry, and his distinguished record of supporting a wide array of civic causes, both as a philanthropist and a supporter and advisor. He is the founder, president, and owner of the real estate advisory company that bears his name—the William P. J. McCarthy Co., Burnaby, British Columbia. Mr. McCarthy also develops, leases, manages and owns his own extensive real estate portfolio.
Throughout his career, Mr. McCarthy has served on numerous professional committees and boards of directors focused on real estate education, scholarship, academics and professional standards and ethics. He is the past president of the Real Estate Institute of Canada (REIC) where he earned Emeritus status. He is the senior REIC real estate faculty member, where he teaches courses on real estate negotiations and documentation, and business ethics. He is the author of three real estate textbooks for REIC, and is a three-time recipient of the Morguard Literary Award for the best real estate article written in Canada.
Among his life-long charitable activities are more than 4,000 pro bono assignments where he offered his professional advice and services for community, professional, educational and religious organizations throughout North America. Included in these assignments was a 15-year project for the Archdiocese of Vancouver, in which Mr. McCarthy designed and led building of a state-of-the-art school (Notre Dame Regional Secondary High school). It was the largest and most expensive capital project in the Archdiocese's 105-year history. In 2016, The Counselors of Real Estate named Mr. McCarthy recipient of the organization's James Felt Creative Counseling Award for the Notre Dame School project. Mr. McCarthy is one of only three Counselors to have been awarded both the Landauer/White Award and the James Felt Creative Counseling Award.
In presenting the Landauer/White award, 2018 CRE chair of the board Joseph Nahas, CRE, noted Mr. McCarthy's lifelong commitment to philanthropy, highlighted by a gift of $21.4 million he and his family made to the British Columbia Cancer Agency, a leading cancer care and research center. It was the largest financial gift to a single beneficiary in the history of British Columbia.
A graduate of Douglas College, the British Columbia Institute of Technology, Simon Fraser University, and the University of British Columbia, Mr. McCarthy holds six university degrees and is in the process of completing three more. In addition, he has earned ten professional designations in real estate and business, and has been awarded certificates in nearly thirty other fields including real estate; garden and golf course design; beekeeping; and certification as a rose judge. During the award presentation, Mr. McCarthy's personal interests were outlined, including his horticultural pursuits, his military service, reading, studying and learning.
The Landauer/White Award is presented annually to an individual who has furthered the ideals of The Counselors of Real Estate®–integrity, competence, community, trust and selflessness–who is viewed by their peers as a recognized leader of real estate with meaningful involvement in causes that change the world.
The award was established in 1986 as a memorial to honor CRE James Landauer for his instrumental role in establishing The Counselors of Real Estate. In 1997, the award was renamed the James D. Landauer/John R. White Award, to honor another high profile professional, John Robert White, who served as a long-term chairman of the Landauer Company as well as President of The Counselors of Real Estate in 1969.
The Counselors of Real Estate is an international consortium of recognized problem solvers who provide reliable, state of the art advice on real property. The organization is known for thought leadership, extraordinary professional reach (more than 50 real estate specialties are represented by its member experts) and objective identification of the issues and trends most likely to impact real estate now and in the future. Membership is extended by invitation and includes principals of real estate, financial, legal, and accounting firms as well as developers, economists, futurists, and leaders of Wall Street and academia. Counselors of Real Estate endowed the MIT Real Estate Center, brought parking garages to China, developed a master plan for the Philadelphia Public Schools and valued Yale University and The Grand Canyon. Award of the CRE® Credential attests to the exceptional real property experience and decision-making skills of the recipient. Counselors reside in 20 countries and U.S. territories.
Contact: The Counselors of Real Estate, 430 N. Michigan Avenue, Chicago, IL 60611 — +1  (312) 329-8427. www.cre.org.