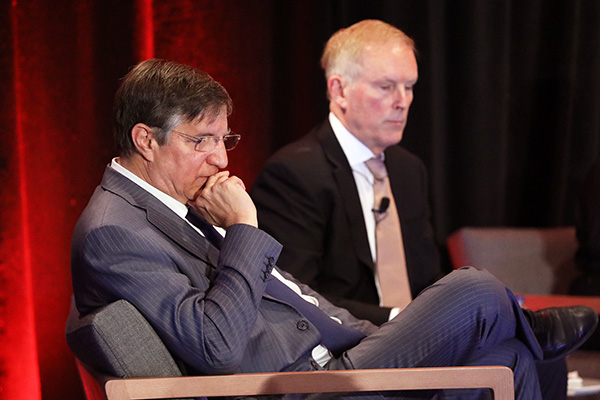 (Chicago)–October 10, 2017– Is the retail slump in the U.S. worse than in other countries? This hot-topic question on the program of The Counselors of Real Estate® professional association's 2017 annual convention in Montreal last week drew nearly 200 attendees into an interactive discussion of the issue. Nicholas Chatzitsolis, CRE, managing director, Axies S.A., Athens, Greece (part of the CBRE affiliate network), led a fast-paced dialogue with speakers from Canada, Germany, and the U.S.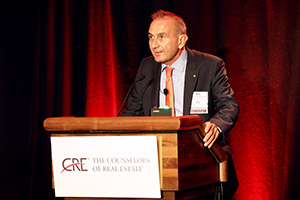 The Counselors of Real Estate (CRE®) is a global professional organization for leading commercial real estate practitioners who advise clients across a broad spectrum of property specialties. CRE meets twice each year to share objective insights and perspectives on important trends and issues which affect real estate and impact populations where they live, work, travel and play – now and in the future.
Ralf-Peter Koschny, CRE, a member of the directory board at Bulwiengesa AG, commercial real estate advisors in Germany, said the overabundance of per-capita retail square footage in the U.S. is as much to blame for the American retail slump as online shopping. "In the U.S.," Mr. Koschny said, "there are 25 square feet of retail space per person. In Europe, it is half that. See the issue?"
In The Counselors' 2017 Top Ten Issues Affecting Real Estate list, it was noted that a study by Cowan and Company estimated the U.S. has 40% more shopping space per capita than Canada, five times more than the U.K. and ten times more than Germany.
Hidden Retail Threat: Aging Populations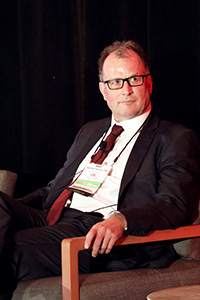 One factor affecting the retail decline has existed largely outside the media spotlight: aging populations. "Spending of households with household heads age 65 or older is just half that of households headed by those 40 to 54 years of age," said Jean-Francois Grenier, senior director, retail development and research at Altus Group in Canada.
Mr. Grenier noted that Canada's ecommerce rate of just two percent of overall sales is particularly low. But online shopping combined with stagnant household income among aging populations adds up to depleted overall sales – an issue not confined to any one country. But with U.S. baby boomers (those born between 1946 and 1964) retiring in large numbers over the next few years, the U.S. is facing a continuing retail slump if communities and malls do not find ways to meet changing demand.
"The retail vacancy rate in Germany is just one or two percent, Mr. Koschny said. "Department stores are struggling with increasing competition from ecommerce, similar to what the U.S. is experiencing; however, our stores are addressing this trend with diversification. The German supermarket sector is adjusting its traditional grocery business model to mimic offerings of discount stores and, in Germany, there are so many supermarkets conveniently located, more shopping is done in person than online," he explained. "Convenience also helps minimize the threat of 'fresh' delivery from online companies such as Amazon, following its purchase of Whole Foods."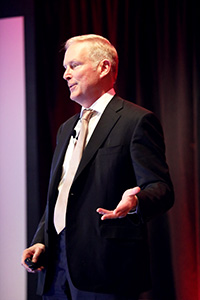 Raymond Cirz, CRE, senior managing director, Newmark Knight Frank, New York, pointed to troubled mall redevelopment and tenant remerchandising as positive steps to manage retail decline. Department store retail sales have steadily declined over the past decade. "There is also an ongoing downward trend in general apparel store sales. Mall operators need to reconfigure the tenant mix. With a number of clothing chains and general merchandise store closures, including those of Macy's, Sears and Penney's, it's a good time to proactively refresh those locations with sporting goods stores, entertainment options and in lesser malls, back offices and self-storage," he said.
Panelists concluded that European retailers are, at this time, coping with the retail challenge, but there will likely be a complete transformation of the retail footprint in North America. Key to surviving the retail slump: location- and demographic-appropriate tenants as well as proactive reconfigurations of mall space to entertainment venues and service providers.
The Counselors of Real Estate organization and its members are known as pragmatic futurists and thought leaders who present objective, balanced views on issues of critical importance to real estate and the world. Members of The Counselors include real estate senior executives and business owners in the United States and more than 20 other countries.
The Counselors of Real Estate®, established in 1953, is an international group of high profile professionals including members of prominent real estate, financial, legal and accounting firms as well as leaders of government and academia who provide expert, objective advice on complex real property situations and land-related matters. Membership is selective, extended by invitation. The organization's CRE® (Counselor of Real Estate) credential is granted to all members in recognition of superior problem solving ability in various areas of real estate counseling. Only 1,100 people in the world hold the CRE credential. For more information, contact The Counselors of Real Estate, 430 N. Michigan Avenue, Chicago, IL 60611; 312/329.8427; http://www.cre.org.