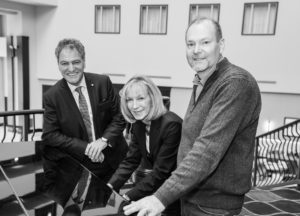 Chicago, IL, November 18, 2019—The Counselors of Real Estate®, the global professional association for prominent commercial real estate advisors, has announced its 2020 leadership team.
Michel Couillard, CRE, FRICS, president and CEO of BUSAC Real Estate in Montreal, was elected the 2020 chair of The Counselors of Real Estate board of directors. Mr. Couillard will lead the 1,000-member organization and its ongoing initiatives, including international growth as well as thought leadership programs, among which is the development of the annual Top Ten Issues Affecting Real Estate™. He is the second Canadian to serve as chair since The Counselors organization was established in 1953.
Mr. Couillard is responsible for overall investments and development strategies, as well as the management and growth of the BUSAC real estate portfolio. He oversees all business activities in Canada, and participates in the management of assets as well as acquisition and development projects in the U. S. Invited to Counselor membership in 1997, Mr. Couillard holds both an MBA and a bachelor's degree in economics and finance from the University of York in Toronto.
Marilee A. Utter, CRE, FRICS, is the 2020 first vice chair of The Counselors of Real Estate. She is president of Citiventure Associates, LLC, in Denver. Invited to Counselor membership in 1996, Ms. Utter has developed strategies and solutions for land use problems in more than 40 cities in the U.S. and globally, with an expertise in transit-oriented development. She received a BA in mathematics and French from Colorado Women's College, an MBA from UCLA's Anderson School of Business, and holds a certificate in state and local public policy from Harvard University's Kennedy School.
William P.J.  McCarthy, CRE, CPM, FRICS, president of W.P.J. McCarthy and Company Ltd. in Burnaby, British Columbia, will assume the chairmanship of The Counselors in 2022. Invited to Counselor membership in 1995, Mr. McCarthy is primarily involved in real property advisory services, property development, leasing, and management. He holds six university degrees.
About The Counselors of Real Estate
The Counselors of Real Estate® is an international organization of commercial property professionals from leading real estate, financial, law, valuation, and business advisory firms, as well as real property experts in academia and government. Membership is selective and extended by invitation, although commercial real estate practitioners with 10 years of proven experience may apply.
Counselors have created and endowed the MIT Center for Real Estate, resolved the dispute between the developer of the World Trade Center and its insurers post September 11, led the privatization of U.S. Army Housing, developed a multi-billion-dollar, 10-year master plan for Philadelphia Public Schools, and valued both the Grand Canyon and Yale University. Counselors reside in 20 countries and U. S. territories, with only 1,000 professionals holding the CRE credential worldwide. For more information on The Counselors of Real Estate® and how to apply for membership, visit CRE.org.